---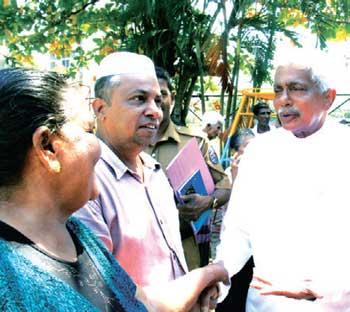 Member of the Western Provincial Council Jayantha de Silva said dedication of the people was an integral part of the country's development and meeting their requirements and pointing the accusing finger at others for the country's ills would not serve any purpose.

Addressing the annual general meeting of the "Sathmaga"community development society at Dabagre Mawatha in Narahenpita he expressed concern about the bad habit of several individuals who blame others for their lapses and failures, insult their fellow men and create trouble by slandering.

PC Member Jayantha de Silva donated a sewer pump for the Dabage Mawatha Housing Scheme. He pointed out that there were individuals who did not know how to live in a housing scheme without causing annoyance to others and that they indulged in the bad habit of gossiping, slandering and insulting others.

"I heard a former President of the society saying that one must turn torches to oneself before focusing attention on the others. I asked him what he meant. He said several residents of the housing scheme had neglected paying membership fees to the development society. From this we can judge their calibre. I know quite well about the issues affecting the housing schemes. The complaints received by the police are either on an unauthorised erection obstructing the waste water drain or on haphazard disposal of garbage causing annoyance to others. All these are created by the residents themselves. Well-being of the people depends on their dedication and interdependence. Accusing others would not serve any purpose," he said.

"It is a glaring defect in Sri Lanka's political culture that the politicians blame each other for the country's ills. Politicians attempt to cover up their faults by pointing the accusing finger at others, while neglecting their duties towards the country. They hinder the work of others. I use my allocation to implement on diverse projects to the amazement of my fellow members.'' PC Member Jayantha De Silva added.

He wished great success to the future endeavours of the "Sathmaga" Community Development Centre. Several CMC Members and officers of the Narahenpita Police were present at the occasion.