---

Ranil Jayawardene is Britain's new Trade Minister. He is only 35-years old. His father is a Sinhalese, who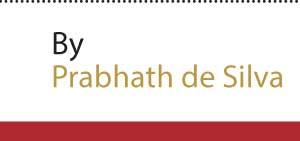 migrated to the UK in the early 1980s, and his mother an Indian.He was born and bred in England. He graduated from the London School of Economics in 2008. Seven years later, in 2015, he was elected to the House of Commons as Member of Parliament (MP) for North East Hampshire in May 2015 from a predominantly white electorate [80.5%] in which the non-white population is at 19.5%.

The whites of North East Hampshire could rise above their ethnicity and colour to vote for a son of South Asian parents and give recognition to the policies he represented and his talents and skills. Hats off to the progressive British people! Congratulations to Mr Ranil Jayawardene!
British and Sri Lankan readers ought to be reminded that this is not the first time the English people have shown this progressive quality. The British students of the Cambridge University elected a Lankan student of Sinhalese ethnicity, James Peiris, (later Sir), an undergraduate of Cambridge in the 1870s, as President of Cambridge Union.
The Sri Lankan polity at that time was divided more rigidly on the lines of the caste than on race or religion. Buddhism, in its abstract form, rejects the concept of caste in Vasala Suttra. It is interesting to note that the concept of caste still plays a role in the minds of the Sinhalese as it did in the pre-colonial and colonial eras.
In practice, the concept of inherited occupations has been done away with due to the progressive reforms that facilitated the transition from feudalism to capitalism during the British rule in Sri Lanka which recognised merit rather than the feudal birth.
"The whites of North East Hampshire could rise above their ethnicity and colour to vote for a son of South Asian parents and give recognition to the policies he represented and his talents and skills"

James Peiris did not belong to the majority Govigama caste [Whose traditional inherited occupation was cultivation in the pre-colonial feudal Lankan society] of the Sinhalese which claimed superiority over other castes.
He belonged to the Karawa caste (whose occupations were largely fishing and carpentry in the pre-colonial feudal society). Owing to the progressive social, educational and economic policies introduced by the British colonial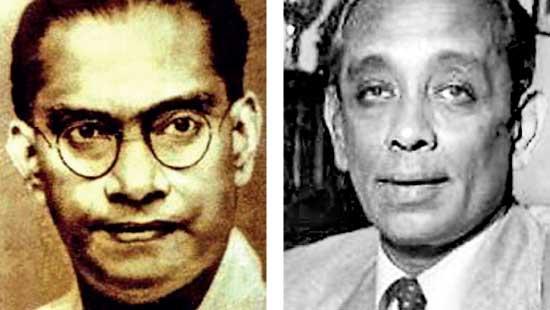 administration during the 19th century, newly educated and wealthy native elite emerged. Significantly, the castes, such as Karava, Salagama (whose occupation in pre-colonial society was cinnamon peeling) and Durawa (whose traditional and inherited occupation was tapping coconut toddy) which were considered socially inferior by the land-owning Govigama elite, began to exploit the new economic and educational opportunities made available to all castes and races by progressive reforms introduced by the British colonial government.
They excelled in the learned professions, education and entrepreneurship. Members of Karava caste achieved a comparatively pre-eminent position in the elite and class formation due to their achievements in education, learned professions, judiciary, entrepreneurship and philanthropy.
A significant number of Sinhalese Karawa were Christians. Significantly, the progenitors of Karava, Salagama and Durawa castes were migrants from India, who arrived in Sri Lanka in the 13th century CE only two centuries before the arrival of the first European colonial power, the Portuguese.
They and their descendants had integrated into the Sri Lankan polity adopting the religion and native languages of the region they inhabited.
"Bandaranaike who failed to convince the Tamil and Sinhalese leadership of federalist proposals abandoned his advocacy for a federal system "
James Peiris won the only English University scholarship available to Ceylonese on merit in 1877 and proceeded to St John's College, Cambridge. At Cambridge, he achieved the rare distinction of securing a double first – a First Class in the Law Tripos and a First Class in the Moral Science Tripos.
Peiris was the first non-European to be elected President of the Cambridge Union in 1882. He was called to the English Bar from Lincoln's Inn as a barrister. He built up a successful practice as an advocate and served as District Judge of Galle for a short time. He played a pioneering and significant role in the movement for constitutionalism serving in the Legislature and being the only native to hold the position of Acting Governor of Ceylon.
In the 1920s, the English Newspapers in Oxford often praised S.W.R.D. Bandaranaike, then an undergraduate at Oxford, for his eloquence at the debates of Oxford Union. He was elected Secretary of the Union by his fellow undergraduates who were predominantly white. The praise generously heaped on Bandaranaike for his eloquence at Oxford Union debates was an indication of the British ability to recognise talent and achievement.
The election of James Peiris as President of the Cambridge Union and Bandaranaike as Secretary, Oxford Union were remarkable and unique at a time when society in England was almost exclusively white and only a few coloured Asian and black students studied there.
Again in the 1930s, Pieter Keuneman, a Dutch Burgher was elected President of the Cambridge Union by his fellow undergraduates. In the 1950s, Lalith William Athulathmudali, a Sinhalese Govigama Buddhist, and Lakshman Kadirgamar, a Tamil Vellala Christian were elected Presidents of Oxford Union by a predominantly white student community.
In the 1960s, Tyronne Fernando, a Sinhalese Karawa Christian, was elected the President of the Labour Union at Oxford.
Keuneman, Athulathmudali, Kadirgamar and Fernando served as Cabinet Ministers in post-Independence Sri Lanka.
Now, Ranil Jayawardene is the latest entrant of Sri Lankan descent to the British Commons and has also achieved Cabinet office thanks to the generosity and courage of the progressive British people.
Only progressive people with a mindset rising above their backgrounds of race, religion, language and prejudices, can make such decisions. We Lankans, having known what divisive politics based on the caste, religion, race and language has done to us, can learn from the progressive British people.
One may find common ground or similarity between the progressive British people and the Sinhalese Buddhist peasants of Anuradhapura, who lived in the 1930s and in the early 1940s during the Donoughmore Constitution era (1931-1947).
There was an English Civil Servant named Herbert R. Freeman who served as Government Agent of the North Central Province. Freeman was born in Suffolk, England in 1864 and educated at Marlborough College in Wiltshire. He joined the Ceylon Civil Service, the premier bureaucratic institution through which the British governed the colony of Ceylon.
"That was the form of Government in the USA All the self-governing dominions, Australia, South Africa, and Canada had the same system.Switzerland afforded a better example for Ceylon."
Freeman loved the poor Sinhalese villagers and looked into their problems with a great deal of dedication, understanding and sympathy. He used to travel by bicycle to almost every village and understood the peasants and their problems and did much to help them. After his retirement, Freeman decided not to return to his native England. He chose to live in Anuradhapura, continuing to help the peasants.
Poor villagers were often fined in the Magistrate's Court for clearing patches of jungles for cultivating grains and vegetables without the permission of the government. They engaged in this type of slash and burn cultivation known Chena Cultivation to earn a humble and basic livelihood. Freeman would go to court and pay their fines out of his own pocket. He would then help them to get permits for such cultivation.
A general election was held in 1931 after the grant of the universal adult franchise under the Donoughmore Constitution.
Freeman stood as a candidate for Anuradhapura Constituency against a well-known and wealthy Sinhalese aristocrat of the area who spent enormously on his campaign. Freeman's was a simple campaign in an era where a colour rather than a symbol was assigned to each candidate. His colour was blue against his rival's red.
Freeman would ride his bicycle to a large tree or a tanks bund and make short speeches in poor Sinhalese, telling those attending his meetings "Numbala chanda polata chande danna yannawa . Numbala, rathu patata chandaya danawa. Ethakota mama Engelanthayata apahu yanawa" (You will go to the polling booth and cast your vote for the red, and I will go back to England).
The peasants of Anuradhapura who loved him dearly would say, "Aney Hamuruwane yanna epa" (Oh, Your Honour please don't go). Then, Freeman would tell them, "Numbala chanda polata yanawa, numbala nil patata chandaya danawa, ethakota mama councilata yanawa. (You will go to the polling booth and cast your vote for the blue colour, then I will go to the Council) The peasants would respond with a "sadhu sadhu".
The peasants of Anuradhapura rose above their racial and religious backgrounds to vote overwhelmingly for Freeman who truly loved them and tirelessly worked for their wellbeing.
They elected him with an overwhelming majority and his opponent even lost his security deposit. Freeman was re-elected uncontested in 1936. He represented the people of Anuradhapura until he died in 1944.
The case of the Anuradhapura peasants of inherent rural simplicity was only one of the few exceptions or rare examples in Sri Lanka's polarized and divisive political history.
In 1912, when the franchise was limited to the educated Sri Lankan elite, an election was held to elect an educated Sri Lankan to the legislature. w Sir Marcus Fernando, a highly educated eminent physician stood for election. He was the most eligible candidate based on merit.
Sir Marcus was a Catholic and a Sinhalese of Karawa caste. The elite of the Sinhalese Govigama caste did not want to see an eminently educated Karawa Sinhalese elected because of caste rivalries.
They could not find a candidate from their caste to match Sir Marcus, and invited Sir Ponnambalam Ramanathan, also an eminently educated Tamil of Vellala caste, a high caste in the Tamil polity, who had retired from politics long ago, having served as a member of the Legislative Councils, to contest Sir Marcus.
Sir Marcus lost because the educated elite Tamil vote shifted in favour of Sir Ponnambalam and the elite Govigama educated people voted en bloc for Ramanathan. This shows how the caste played a more divisive role than the race or religion at that time.
The Ceylon National Congress, in the beginning, was led by educated elite members of minority caste, religious and ethnic groups together with the leaders of the majority Sinhalese Buddhist community. Eminent leaders like Sir James Peiris (Sinhalese Christian Karawa) Sir Ponnambalan Ramanathan (Hindu Vellala Tamil) and E.W. Perera (Sinhalese Christian) led the Ceylon National Congress which agitated for self-rule. In 1926, S. W. R. D. Bandaranaike, who was then a newcomer to the Sri Lankan politics shortly after he graduated from Oxford, formed a political party named Progressive Nationalist Party. In a lecture delivered under the auspices of the Student's Congress in Jaffna, in July 1926, Bandaranaike identified Low Country Sinhalese, Kandyan Sinhalese and Tamils as the three distinct major ethnic groups with communal differences in Ceylon.
He expressed the view that there would be problems if a centralised form of government was introduced into countries like Sri Lanka with large communal differences since a centralised form of government assumed a homogenous whole.
Having emphasised 'the need to understand the reality of existing communal differences of Low Country Sinhalese, Kandyan Sinhalese and Tamils according to his judgment, Bandaranaike, at the end of his lecture, proposes a Federal Constitutional scheme as a solution, and The Ceylon Morning Leader, a contemporary newspaper whose report of this lecture is the only source of information available gives a summary as follows:
"In a federal Government, each federal unit had complete power over themselves. Yet, they are united and had one or two assemblies to discuss matters affecting the whole country. That was the form of Government in the United States of America. All the self-governing dominions, Australia, South Africa, and Canada had the same system. Switzerland afforded a better example for Ceylon."
Significantly, Bandaranaike's proposed federal scheme was rejected by the elite Sri Lankan Tamils of the day and they preferred a unitary system of government that worked in a cowmmon language -English. James T. Rutnam, a Sri Lankan Tamil youth in response to Bandaranaike's Federal Scheme said in an article published in Ceylon Morning Leader said:
"Ceylon then, as I said, is too small to admit to Federal Division. Think of Uva having a Parliament of 50 members and what is more if it can legislate it must have judges too! Another important question is whether we can afford the expense of maintaining all these government bodies and minor departments? It would be superfluous to press this point further."
Rutnam, however, gives expression to his own sentiment for a unitary form of government at the end of his rejoinder by quoting an ex-president of France:
Bandaranaike having failed to convince the contemporary Tamil and Sinhalese political leadership of his federalist proposals abandoned his advocacy for a federal system and joined the Ceylon National Congress which he severely criticised for its failure to recognise the distinct communal differences of Low Country Sinhalese, Kandyan Sinhalese and Sri Lankan Tamils.
His Progressive Nationalist Party too soon disappeared from the contemporary political scene. Many Sri Lankans today are not aware of the fact that Bandaranaike was the Father of Federalism in Sri Lanka and that Sri Lankan Tamil political leadership rejected federalism and preferred a unitary form of government.
The British Government appointed a Royal Commission headed by Lord Donoughmore to inquire into further reforms to the constitutions to meet Sri Lankan aspirations.
The Donoughmore Commission which consisted of progressive British politicians of the day was fully convinced that the grant of the universal adult franchise should be introduced to enable the ordinary peasants to elect representatives of their choice in order to speak on their behalf in the legislature in order to agitate for better facilities for education, health, and development.
Bandaranaike's concept of federalism found favour with the Kandyan Sinhalese leaders and the Kandyan National Assembly advocated for a federal form of the constitution before the Donoughmore Commission of 1928 and the Soulbury Commission of 1944 demanding a federation of three autonomous regional states:
1. One for the former territory of the Kandyan Kingdom for Kandyan Sinhalese that existed prior to the Kandyan Convention of 1815,
2. One autonomous region merging the Northern and Eastern Provinces for Tamils, and
3. One autonomous region merging coastal areas of the North-Western, Western Province and Southern Provinces for Low Country Sinhalese.
With the introduction of the universal adult franchise under the Donoughmore Constitution, race, religion and caste began to play a role in politics at elections. Bandaranaike soon adorned the national dress, learned the Sinhalese language and began to tread on a path of communal politics based on Sinhalese Buddhist Nationalism.
Having read Classics at Oxford, he was a Barrister-at-Law. A Tamil Hindu counterpart of his Sinhalese Buddhist nationalism was G.G. Ponnambalam who emerged from the Sri Lanka Tamil polity. Ponnambalam read Science at Cambridge and became a successful Barrister.
Bandaranaike founded his communal organisation named Sinhala Maha Sabha and Ponnambalam founded the All Ceylon Tamil Congress.

Professor C. Suntheralingam, an Oxford-educated Professor of Mathematics and a Barrister, and an eminent Tamil politician in his letters to his grandchildren, describes Bandaranaike and Ponnambalam as "Communal Careerists" in Sri Lankan politics. Bandaranaike, who hailed from an aristocratic, Anglicised Sinhalese Govigama Christian family renounced his Christian faith and embraced Buddhism.
The enactment of his Sinhala Only Act and the events that followed drastically changed the political landscape of Sri Lanka, resulting in communal riots, disturbances and tensions culminating in a 30-year civil war.
History has shown that issues of race, caste, religion, language and blind political affiliations have always been exploited by the leaders and these machinations have not originated from the ordinary people or peasants.
Innocent peasants may be misled, misguided and mobilised by the leaders to achieve their narrow self–serving interests and ambitions by exploiting ethnicity, religion, caste and language in the South Asian political context.
"Only progressive people with a mindset rising above their backgrounds of race, religion, language and prejudices, can make such decisions."
The question that we ought to ask ourselves as Lankans is:
"Can we learn lessons from the progressive British people and nearer home from the Anuradhapura peasants of the Donoughmore era to rise above our backgrounds of race and religious and prejudices and blind political affiliations to make the right decisions as to the occasion demands?
From the life of Freeman to we can learn a lesson. How an Englishman could rise above his elite background, colour, religion and race to serve the peasants of Anuradhapura. The life and deeds of this Englishman speak volumes.
Today in Anuradhapura, we see only his grave and a road named after him as two modest monuments in the midst of large monuments and imposing statues of post–Independence Sinhalese politicians and national heroes that adorn that city.