---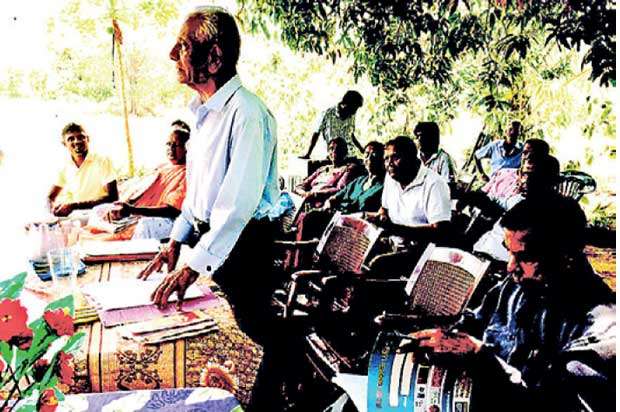 It is common knowledge that one of the never-ending growing problems that this country has had to face is the non-availability of purified drinking water in several districts.

Poor villagers in the dry zone have been the victims of this problem. This unfortunate situation leads to almost fatal conditions like kidney decease.

Sri Lanka Belgium Association (SLBA), a voluntary social service organization, has made attempts to assist the victims in the North Central province. SLBA President Amaradasa Gunawardana has successfully managed to receive financial aid from an organization in Belgium named "Adoptie Sri Lanka Belgium VZW".

This Belgium non - governmental organization has been practically involved in social service programs in Sri Lanka during the past three decades. Hence they have gladly consented to assist this social need introduced by SLBA.

The first drinking water project introduced by the SLBA and funded by Adoptie Sri Lanka Belgium VZW was a gift to the remote village called New Mahasen Pura, Welikanda in the Polonnaruwa District. With the view of providing purified drinking water for over 250 families before the dawn of the Sinhala New Year in 2O17, this project was

declared open on 09th of April 2017. lt has the capacity to produce 10000 liters of purified water a day. We hope that the 116 kidney patients of New Mahasen Pura will not have new additional patients. This Centre of drinking water is managed by Mahasen Death Donation Society (Maranadara Samithiya) in Nawa Mahasen Pura.

The good and encouraging news spread fast. The establishment of the drinking water project in New Mahasen Pura helped bring under the spotlight people in a similarly remote village in
Polonnaruwa District. These people from Kajuwatta requested for similar social assistance.

With the encouraging approval from Adoptie Sri Lanka Belgium VZW the drinking water project in Kajuwatta was declared open on 04th April 2018. This project is expected to provide drinking water to 3500 people in this remote area. They consider it a great fortune that they received this benefit well in advance of the Sinhala New Year of 2018. SAMAGI

Death Donation Society (Maranadara Samithiya) has agreed to manage this project. A coconut plant was gifted to each family on this day.

The third drinking water project in the series was proposed to be constructed in a village named HIDOGAMA in pavakkulama area of Nachchaduwa Divisional region of Anuradapura District. The original request was received from Hidogama Rural Development Society. The officials of SLBA referred this request to Adoptie Sri Lanka

Belgium VZW who promptly approved the project. Over 250 families of this region will be benefited by this drinking water project. We all know that the month of June usually is the period that large numbers of pilgrims from all over the country visit Anuradapura.

Considering this SLBA together with the Hidogama Rural Development Society has arranged to declare open this project on 25th June 2018. This occasion will be graced by Madam Linda Stabel the president of Adoptie Sri Lanka Belgium VZW. She will declare open the project.