---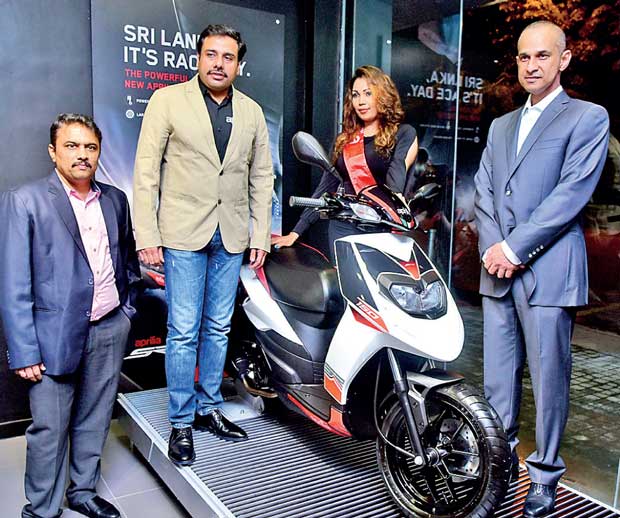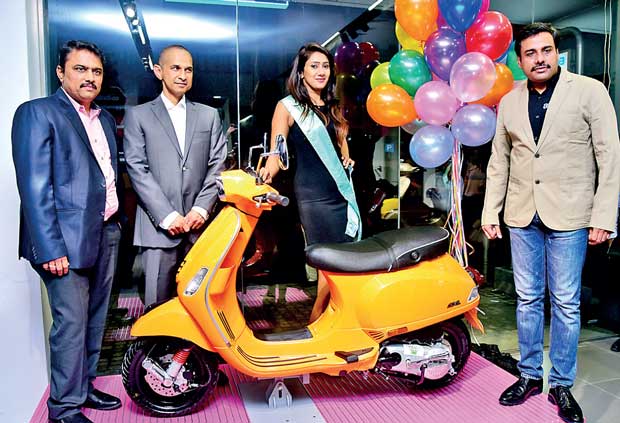 By Gamini Akmeemana
Vespa is back in Sri Lanka. But if it will be the same success story as in the past remains to be seen.
Actually, the iconic Italian scooter never really went away. While India churned out millions of scooters based on the Vespa (under different names) from the 1970s to the 90s, and then abandoned them for Japanese-inspired motorcycles (except for LML Motors whose Stella is based on the Vespa), enthusiasts in Sri Lank kept their old 60s and 70s two-stroke Vespas running. But brand-new Vespas from Italy seemed to be a thing of the past, there being no importer.
Colonial Motors has now undertaken to import brand-new Indian Vespas, along with Aprilia, another vintage Italian motorcycle brand, which was taken over by Piaggio, the makers of Vespa in Italy, in 2006. If few Sri Lankans have heard of Aprilia, they can be excused; even in the 50s and 60s when names like Moto Guzzi and Ducati were familiar at local racing events, Aprilia was uncommon. Today, Aprilia is still competitive in international racing but not among the giants of Moto GP, which are all Japanese except for Ducati.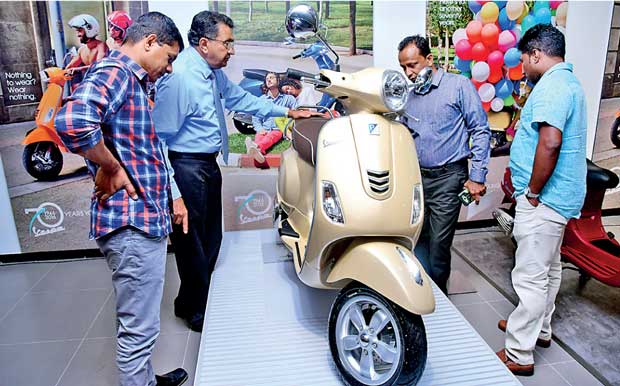 The Indian-made Aprilia on show at the launch held at Colonial Motors last Friday was a scooter. It looked like a hybrid – the front looks like a scooter while the back is a motorcycle. Painted like a racer, it looked like a 150cc compromise for those who like to have a foot in both worlds and racing fantasies while cruising or crawling on highways or city streets.
Actually, the Aprilia looked like a sideshow compared to the Vespa, the highlight of the launch. Four models were on display. The 150cc flagship model 'Elegante', a less showy 150cc, and a 125cc model. All three look more solid than the average Indian two-wheel product, but the styling is Italian. (Actually, it's more Japanese. Under a new management, Vespa Chief Executive Rocco Sabelli redesigned the factory post-2003 to Japanese principles so that every Piaggio could be made on any assembly line).
How do they compare with the classic Vespas such as the legendary P150X and its successor PX150, many of which are still running on our roads thanks to Indian spares; these fit because the mass of Indian scooters owe something, if not everything, to the Vespa.


What happened to Vespa styling from the 70s on is comparable to what happened with the Volkwagen Beetle. The pre-80s' Vespas have absolutely clean lines with no bulges anywhere for turn indicators or anything else. The scooter was designed soon after World War II by an aircraft designer, hence its aerodynamically clean shape. The decades leading to the 1970s saw Italian industrial design reach its zenith and the classic Vespa is one of the best examples of that achievement.
But, just as it happened with the Beetle, trying to keep up with the times did some aesthetic damage. Just as with cars, bike styling from Europe to India and China today tends to look universal rather than national or individual. The three Vespas at the launch were products of this design and marketing philosophy. It's as if Piaggio India is trying to give its customers the best of both worlds – an up to date scooter with 12 volt electricals, self-starter, four stroke Ohc engine and automatic transmission, but with a few nods to the classic Vespa – the tapering fin on the front mudguard, chrome side mirrors, the grooved foot board, etc. and a kick pedal, which will come in handy when the battery's down.
These machines have no spare wheel because the tyres are tubeless. It's better to have a tyre which can still go with a nail probing its insides rather than carry a spare wheel because changing the wheel still requires both patience and skill and valuable time. But tubeless tyres can be trouble once the rim gets dented or oxydisation sets in. At that point, an optional spare wheel might seem a good idea.
The seat has to be raised up to fill the tank, like in the old days, but underneath there is enough space for a spare helmet, a convenience lacking in the old Vespas. Actually, while working out these compromises for the mass market, Piaggio should have done what Enfield India did with the Royal Enfield motorcycle – offer the public a classic scooter with a modern touch such as self-starter. The parent factory in Italy still produces the PX150, which replaced the P150X in 1977, with a catalytic converter added to the two-stroke engine to meet today's emissions standards. It's as simple as a scooter can get, with a four-speed manual gearbox and retains those classic lines.
As it is, prices for the new four-stroke range are steep – the cheapest model is Rs.325,000 and the flagship Elegante Rs.435,500. To pay such amounts, potential customers would need a very good reason. The name? Nostalgia cannot be counted upon, because the previous generation would prefer the real thing, while the twenty somethings aren't going for nostalgia. They want looks and performance.
These scooters have the looks; one cannot vouch for performance without test riding them. As it is, this is still a Colombo-based operation and the customers from other provinces would want to know about servicing and spare parts possibilities. It's hard to say at this point which way the new Vespa wind would blow. Would customers pay so much (when other Indian scooters are priced around Rs.200,000 or less) for an iconic name in these cash-strapped times? Only time would tell.