---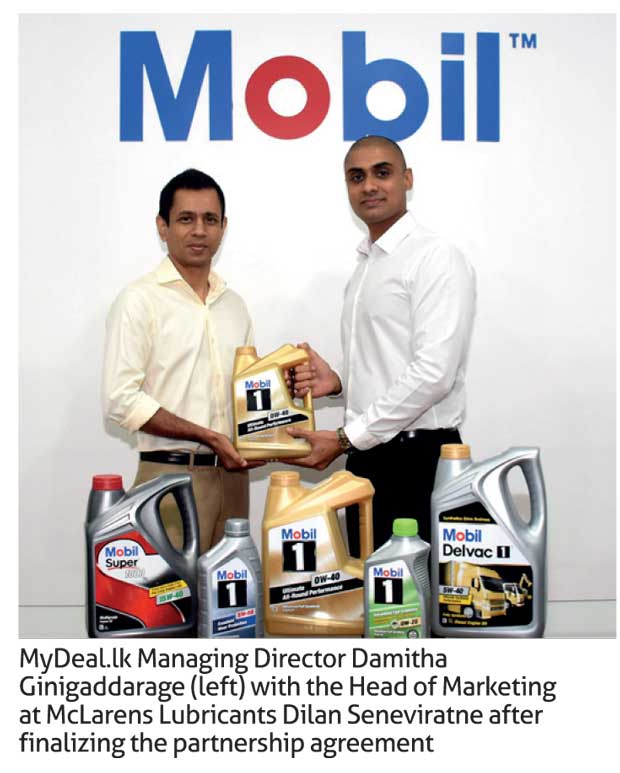 McLarens Lubricants Limited, the exclusive distributor for Mobil lubricants in Sri Lanka, entered into a new partnership with MyDeal.lk, one of the country's leading online retailers.

Customers can continue to easily purchase the entire range of Mobil lubricants through the daily deal website.

Commenting on the new partnership, Head of Marketing at McLarens Lubricants Limited, Dilan Seneviratne said: "We have always been committed to innovation in offering greater convenience to our valued customers. In fact, we pioneered the move from selling solely through traditional lubricant marketing channels to include non-traditional outlets such as tyre shops and spare-parts shops to make it easier for users. Our partnership with MyDeal.lk offers our customers the ability to purchase Mobil lubricants they need with a click on their mobile phone or computer." Customers can also purchase Mobil products from over 1,000 dealers island-wide.

Mobil lubricants are globally renowned for exceeding the latest standards of the lubricant industry and vehicle manufacturers. They provide unrivalled performance for all kinds of engines whilst ensuring lasting engine life and outstanding fuel economy.

One of the biggest e-commerce stores in the country, MyDeal.lk has been offering Sri Lankans great value since 2011. MyDeal.lk is known for offering the best deals in the country with thousands of high quality products on offer, from electronics to fashion and household goods. It accepts online and mobile payments via multiple secure payment gateways and offers island-wide delivery, order tracking and warm customer service.

Managing Director of MyDeal.lk Damitha Ginigaddarage, commenting on the renewal of the partnership said: "Mobil is a highly reputed international brand and McLarens is a leading player in the lubricant market in Sri Lanka, so this has been a perfect partnership for us and we are delighted at its continuation. Our customers have been excited about the availability of Mobil products online and truly appreciate the added convenience."

In addition to all of the above, customers will be thrilled to discover that the Mcshaw Automotive website has enabled visitors to purchase lubricants online via Mydeal.lk, complete with every benefit the e-commerce site has to offer. Island-wide delivery and 24-hour (same day) delivery in Colombo 1-15 and select areas out of Colombo gives additional value to stakeholders across the spectrum. McShaw Automotive Limited is the Exclusive Distribution arm of McLarens Lubricants Limited.
A series of payment options are available to customers, including all major credit/debit cards, Cash on delivery, online loyalty point redemption for both Commercial and Sampath Bank Credit Card holders, mCash, DFCC Vardhana Virtual Wallet, Sampath PayApp and Sampath Vishwa. The partnership also facilitates additional discounts as part of special promotions with leading banks, while exclusive rebates are offered to Nexus, Channel 17 and Floreat members.

This is a vital integrated step and a partnership which is bound to benefit all parties involved, ensuring that customers experience greater convenience, achieving a revolutionary new feat in the local lubricant industry.