---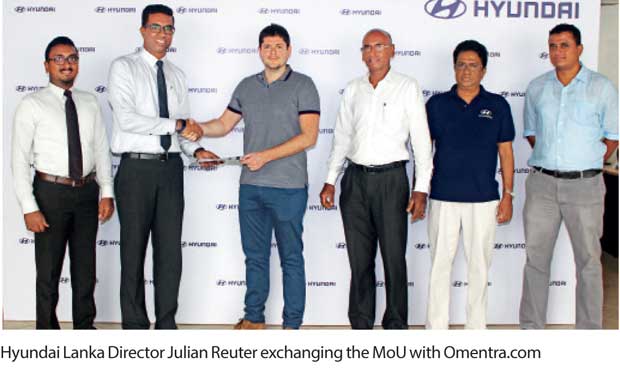 Sri Lanka's pioneer online procurement service provider Omentra.com has once again initiated another first in the market by designing the country's very first digital procurement solution for the automotive industry.

Omentra.com, recently signed an MOU with Hyundai Lanka (Pvt.) Ltd to launch this innovative solution to the market. This partnership will be a milestone that marks the next era of digital procurement development for the automotive industry in the country, which in turn will unleash an entirely new set of opportunities for both automotive companies and customers.

Omentra.com Operations Head Nadun Kumara explained that while customers are currently used to purchasing a vehicle offline, they will in the future want the freedom and flexibility to move between numerous information sources and receive details across all channels. This is with Omentra.com's primary target audience – corporate executives and businessmen kept in mind, where their driving need will be convenience at the click of a button in any purchase, even that of a vehicle.

Therefore, the automotive industry will need to evolve in delivering a seamless customer experience at every level of the customer life cycle. They will also need to efficiently use customer analytics to improve operational performance across sales, marketing and customer service. Omentra.com's model will enable the industry to achieve these goals through providing greater consumer insight, which in turn will help set in place the required processes and procedures that will improve their supply chain operations, whilst helping to serve evolving consumer behaviors in a timely and efficient manner. This would ultimately lead to greater sales growth.

Endorsing these comments, Hyundai Lanka Director Julian Reuter stated that: "Digitisation is re-imagining the automotive industry's business models. Integrating the entire supply chain to share information and make decisions collaboratively and in real time is the way forward. Omentra.com approached us with such a business model in place that will help us to understand and predict customer requirements and take appropriate actions to meet them ahead of time. The greater visibility offered through closer customer collaboration will help us to monitor sourcing quantities, maintain the right mix of vehicles in stock and optimize inventory of spare parts. Most importantly, we wish to provide customers with clear information about our products and services, and offer a comprehensive point of comparison in their important decision making. We are proud and committed to supply world's best quality, award winning vehicles with all features of customer care. Additionally, our islandwide dealer network is able to cater to all customers needs throughout the country.

We are delighted with Omentra.com's model and look forward to a long and fruitful collaboration with them. We are also proud to be the first automobile company in the country to embrace digital procurement, which in turn speaks volumes of our pro-active and transformative approach in all our activities, specifically in continuously serving the evolving needs of the customer."

Omentra.com's vision in offering this online vehicle configuration and ordering is to have their solution help the automobile industry derive more information about customers and what they need in their choice of vehicles and assist them to use this wealth of information to improve and increase the value propositions they offer to their customers. This is just another step in Omentra.com's journey in becoming a complete end-to-end online and a fully digital procurement solution provider for Sri Lankan businesses of all types and sizes.