---
The Mediafactory group has appointed experienced industry professional Michael Holsinger as its Group Chief Operating Officer (COO) in a bid to strengthen its growth trajectory and fine-tune synergies among its subsidiary communication agencies.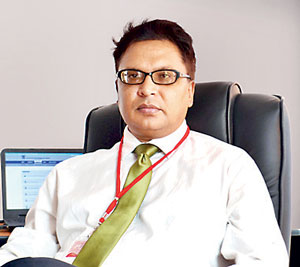 Michael's appointment marks a significant milestone in the journey of the Mediafactory group, a relatively young but daring organisation that has grown into a fully-fledged communication agency within a short period of nine years. The wealth of expertise Michael brings will help elevate the Mediafactory group to the next level.
"Mediafactory is a very big player in the industry and I see my role as a conductor of an orchestra checking if work happens at the right time according to the right pace so that the synergies harmonize to give excellent results," Holsinger said.
In Sri Lanka's fast-moving, crowded advertising industry, the Mediafactory group has been the disruptors who dared to enter the fray to challenge the existing status quo of established local agencies with foreign affiliations enjoying easy access to large ticket client deals. With entrepreneurship, sheer grit, courage, clever moves and determination, the Mediafactory group has come of age to jolt the industry without the backing of international media groups.
"Mediafactory has two of the best industry thinkers in Prashanth and Kapila. They both have a strong background and vast experience in strategic planning and media operations in their previous careers at other agencies. Their concerted effort, skill and innovative thinking have been the key to Mediafactory group's success. People and the business base are key strengths of Mediafactory and the industry is beginning to get nervous about this," Holsinger said. With over 25 years' experience in the communication industry, Michael boasts of an illustrious career spanning stints in strategic planning, his forte and client servicing.
A product of St. Peters' College, Michael began his advertising career at Minds FCB and joined JWT as an Account Executive in 1991 and rose to become Account Director in few years. A founding member of the Leo Burnett team, Michael's insight into consumer psyche and keen interest in strategic planning propelled him to success. At Leo Burnett he headed client services and planning for eight years before joining LOWE LDB as its Chief Operating Officer in 2006. As Executive Director at Triad Advertising, Michael played a key role in honing brand planning and client servicing, strengthening the overall management of the agency.
Michael who is also the Secretary of the International Advertising Association Sri Lanka (IAA) shoulders the common challenge of building unity and pumping new blood into the local advertising industry. "Industry is in crisis and there is very little talent coming in. This is a young person's industry. New ideas will only come from young people but we can't find serious minded people and as a result the industry is paying more to retain talent. The advertising industry was much more active and vibrant 20 years ago but today everybody is at each other's throats. We don't even have a platform for awards anymore. We need to bring back unity," Holsinger said.