---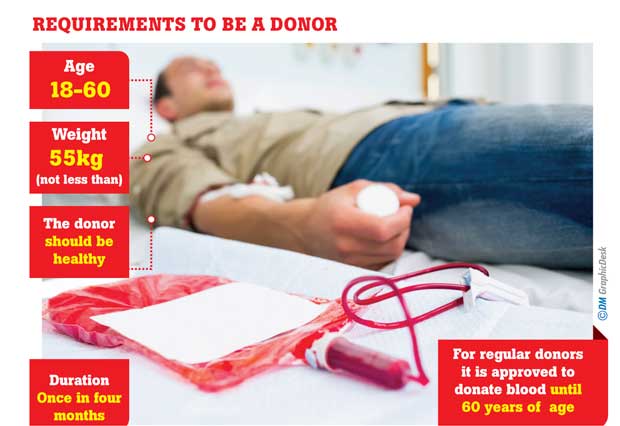 Age – 18 to 60
Weight - not less than 55 Kg, The donor
should be healthy
Duration – once in four months
For regular donors, they have the approval to donate blood until they turn 60
The National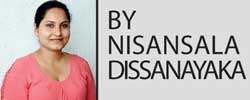 Blood Transfusion Service (NBTS) recently announced that the Blood Bank is facing a critical shortage of blood due to a lack of donors between January and April. Given this emergency situation, Health Capsule decided to inform the public as to how they can help save lives by donating blood.

NBTS Deputy Director Dr. Deepa Saranajeewa said that the Special Government Campaign conducted by NBTS comes under the Ministry of Health. It is the sole supplier of blood and blood products to all government hospitals and the majority of private sector hospitals. There are around 100 hospital based blood banks operating all over the country. Depending on their geographic location they are divided into 19 clusters. One major blood bank within the cluster has been identified as the Cluster Centre.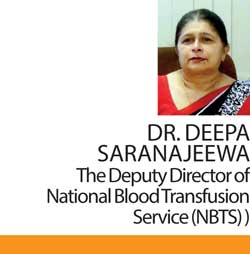 National Blood Center (NBC) is the operational headquarters. Within NBC there are several departments and units; each playing its own distinctive role to assure the timely supply of quality assured blood and blood products and transfusion and offering transplant related services to the entire country.

Diseases, operations, and accidents require volumes of blood and other blood products. During an emergency for blood or other blood products, the blood bank is responsible to ensure that demand is supplied.

Stocks decline
NBTS collects approximately 400 to 450 thousand units of blood from voluntary blood donors all over the island. Usually every hospital blood bank and the National Blood Centre in Narahenpita encounters a drop in the supply of blood between January and April each year. Likewise this year the issue cropped prematurely, resulting in the blood stocks starting to decline from the beginning of this month.

"If Dengue pops up again, or if there is a need for a massive transfusion we will be facing an urgent requirement of blood and other components. Therefore every blood bank should maintain the minimum level of stocks in all blood groups. That's why the doctors, public health inspectors and nurses in all blood banks are struggling to find donors between January and April each year. The blood bank staff in every blood bank throughout the country is ready to support any group, any organization willing to donate blood," Dr. Saranajeewa explained.

Any person who falls between the ages 18 to 60 years and possessing a body weight not less than 55Kg can be a voluntary blood donor. Also he shouldn't have suffered an infection recently or received treatment for a chronic disease. Any person who had travelled abroad three months before the time of the donation will not be recommended to be a donor. Every donor can donate blood every four months. "The most wanted blood types are A-, B-, O- and AB-. Negative blood type donors are less compared to the positive types we are getting regularly. Usually, we are supplying 300 - 350 red blood cell packets and 175-200 platelet packets per day to all hospitals in Colombo. To cater to this requirement, we need to collect blood daily from the donors," she said.

Organize a campaign
Be it race, religion or any personal cause, anyone can organize a blood donation campaign or donate their valuable blood to save lives, in their hometown or even in NBTS premises. The authorities at NBTS look forward to provide their services for such a cause. Before deciding the day for the donation campaign, the organizer will have to meet the medical officer in charge in their local blood bank and check the availability of a date since donor camps are organized months before an event. There's a huge demand for blood donation camps to be organized during weekends and public holidays.
Therefore, checking the available date three months prior to a campaign is advised. Elaborating on the shortage of blood, Dr. Saranajeewa said, "During the last two weeks and the end of December we had a low number of blood donors which resulted in a lesser amount of blood being collected. Some campaigns were cancelled due to the rules related to elections banning the gathering of people". The Blood Bank requests the general public to donate blood as much as possible, immediately.

A voluntary donor can donate blood at the National Blood Centre in Narahenpita during any of the 365 days of the year between 8am to 6pm. However at other hospital based blood banks, donors are allowed to make their donations between 8am to 4pm. The campaign premises should be well-known to the public and the place should be peaceful and have a clean atmosphere, parking facilities and washrooms. NBTS provides the necessary equipment for blood transfusions. All the organizers will be called for a meeting prior to the event by the respective blood banks to make them aware of how to organize a blood donation camp. The NBTS doesn't approve blood from donors who are not volunteers. A successful blood donation campaign is a collective effort of several groups. Friends, sports clubs, volunteer organizations, Government, and non – government organizations can organize donor campaigns. A weekday blood donation campaign should attract the participation of at least 100 people while a weekend campaign should attract around 200 donors. National Blood Centre and Cluster Centre blood banks have the capacity to conduct mass blood mobiles with the valuable participation of 1000 to 3000 donors.

The NBTS maintains a donor registry which is used to call donors when blood is needed during an emergency. Anyone willing to donate blood can enter his or her name in the register at the NBTS.
A voluntary blood donation is a valuable and precious gift a person could give willingly and help save millions of lives.