---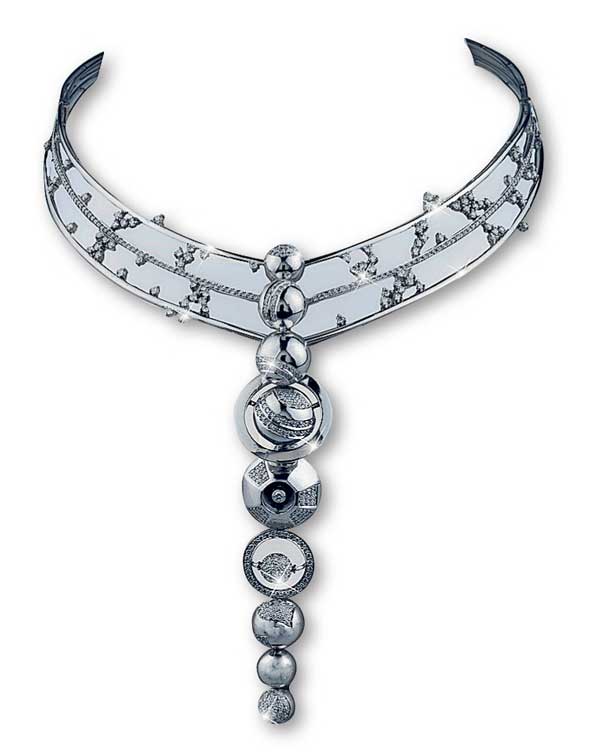 The one-of-its-kind magical jewellery collection at Vogue Jewellers is an eclectic (diverse) mix of world-class masterpieces that add facets to sophistication. Uniquely innovative in concept and design, combined with impeccable craftsmanship, these exclusive adornments are amazingly customisable. Depending on your attire or the grandeur of the occasion, the ability to change the design with a mere snap or a twist, gives you greater versatility.

This collection consists of futuristic concepts, fused with delicate designs and creations, which are more conventional and all in all, exude luxury. The legacy of its founding Chairman, the late Sarath Hemachandra, who created innovative concepts in world-class signature pieces exuding elegance and lasting value, is continued in these items of intricacy and finesse.

Among this exotic collection is the 'Planetary Alignment', an innovative customisable, five-in-one design necklace, which won the first prize in the Professional Group Award Category at the Dubai International Jewellery Design Competition. This unique creation can be worn as a grand necklace, a choker, a simpler necklace, a pendant and a bracelet.

The stupendous 'Magic Ball' pendant, with an Australian South Sea pearl, surrounded by the finest diamonds, will leave you speechless. With an effortless twist, it transforms to lustrous White diamonds and contrasting black diamonds - a super smooth and simple mechanism integrated in a piece of fine jewellery.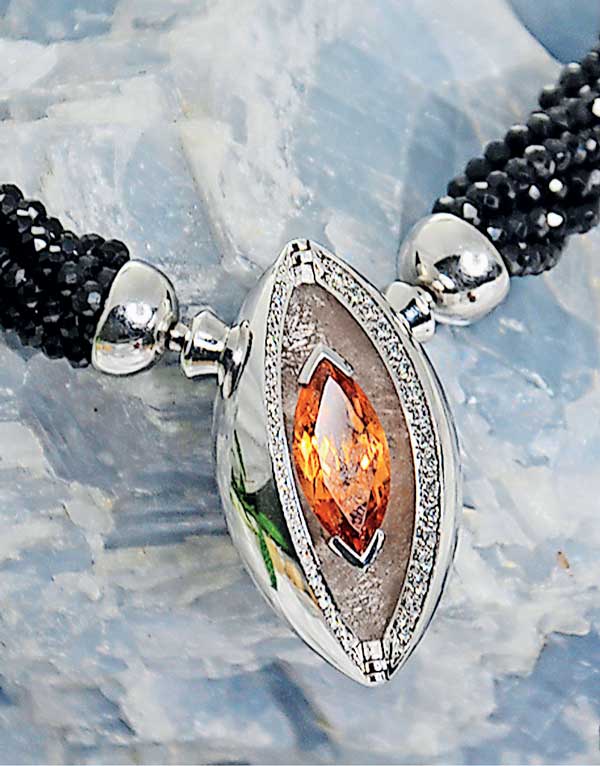 This unique two-in-one design too gives you varied options in selecting the centre stone of the pendant with a simple snap.
The versatility of this unique three-in-one can be transformed from a dazzling diamond to a charming South Sea pearl or a centre encrusted with fine diamonds.
This two-in-one 'Modern Wind Turbine' pendant was the winner in the Futuristic Category at the Dubai International Jewellery Design Competition. With this world-class piece of jewellery, Vogue Jewellers placed Sri Lanka on the global arena. This innovative pendent, designed in white gold and dazzling diamonds can also be worn as a ring.

Renowned for innovation and impeccable quality, these one-of-its-kind exotic masterpieces, radiating beauty and lasting value have been meticulously designed and skilfully crafted by Sri Lanka's most awarded team of professional designers and master craftsmen. As Sri Lanka's most awarded jeweller, Vogue, utilizes only the finest quality raw material to create these delightful items that leave a lasting impression 'With You Forever'. Vogue Jewellers outshined global standards by being the world's first jewellery manufacturer to be awarded the ISO 9001:2015. This achievement was subsequent to Vogue Jewellers becoming Asia's first jeweller to be certified by the previous edition, ISO 9001:2008 and be re-certified for seven consecutive years. This is a clear statement of Vogue upholding the virtue envisioned by its founder to continually heighten its standards in design, manufacturing, quality control and customer service.