---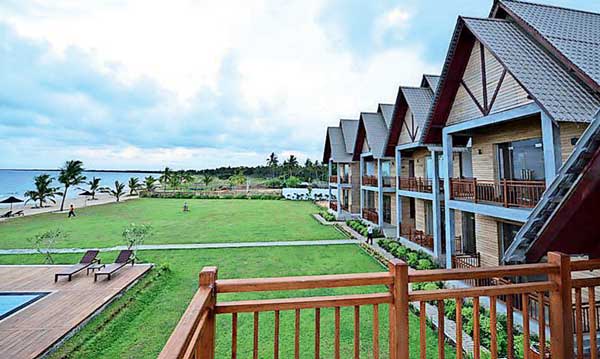 Make the most of your last chance for an off-peak 2016 getaway by visiting a virtually untouched corner of the east coast. Experience the cosy haven that is Laya Waves, Kalkudah. Only five hours away from Colombo, and a stone's throw from the Kalkudah railway station, Laya Waves is the ultimate beach resort with clear blue waves lapping a pristine and sultry golden beach, framed by an exquisite bay that screens it away from the bustle of Pasikudah.

A hotspot for sightseeing, Laya Waves is only 20 km from the beaches of Vakarai and Kayankarni and 30 km from Kalladi Bridge. It is also only 30 km from the historic Batticoloa fort and the rich-in-culture Toppigala Heritage Centre, and a couple of hours drive from the ancient city of Polonnaruwa. The iconic Arugam Bay and vibrant sights of Trincomalee are also just a few hours away.
So, take advantage of this getaway before peak tourist season rolls in. Book Laya Waves in Kalkudah for two or more nights during October and November 2016 and save up to 40 percent on the cost of your total stay.

Sitting serenely on an enchanting beach property, Laya Waves offers four chalets with eight dwelling spaces, as well as four suites, two deluxe rooms and two standard rooms, each with balconies and terraces commanding stunning views of Kalkudah's azure sea. All dwellings are well equipped with a full range of amenities, including Wi-Fi, IDD, Cable TV, etc., that will undoubtedly please even the most discerning of guests.

Adding another dimension to your experience, the dining and bar facilities, at Laya Waves also overlooks an unyielding ocean expanse, while at the same time catering to a host of unique tastes, offering a wide range international and local cuisine and seafood in particular, which is a specialty of the house. A swimming pool reflecting a resplendent blue vista is the backdrop to a variety of water sports, while the pool bar plays host to a quick stop for refreshments or a leisurely indulgent repast under a glowing sun.

The inviting and cosy haven that is Laya Waves welcomes you to come and try out a very different seaside experience, where the overall ambiance is helped along by tides of peace and quiet and waves of fun and laughter. Romantic couples and happy families on holiday especially will find that Laya Waves in Kalkudah is your kind of place.

Inspired by the Sanskrit word Laya, which evocatively suggests 'repose', that aura of tranquillity is what the world of Laya offers as it welcomes all travellers to its chain of hotels. Founded by the Sri Lanka Army to initially cater to the welfare of its war heroes, with the introduction of the Laya concept, its Welfare Directorate thought it fit and proper to throw open its doors to local and international visitors at large. The Laya group comprises – Laya Safari in Yala, Laya Beach in Wadduwa, Laya Leisure in Kukuleganga and Laya Waves in Kalkudah – all oases of absolute serenity.