---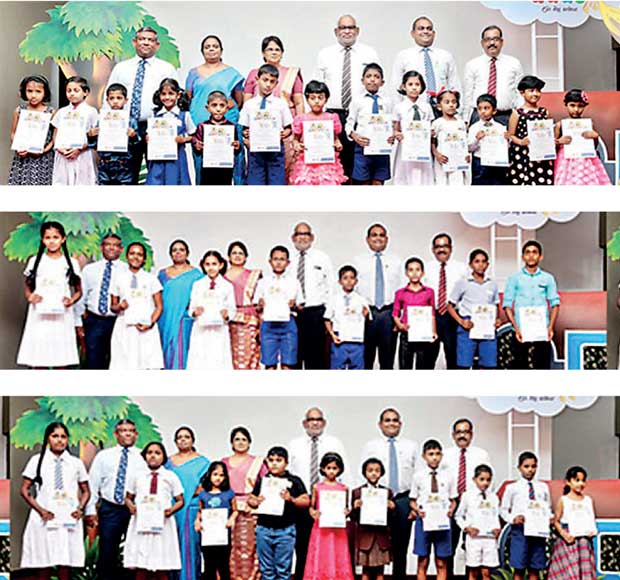 Forty five child artists between the ages of six and14 years took home cash prizes totalling Rs.555,000 courtesy of Commercial Bank's 'Arunalu Siththam'
art competition.
The award ceremony of the first islandwide art competition hosted by the Bankunder its flagship children's savings account 'Arunalu', was held recently at the Sports Ministry Auditorium.
Commercial Bank Managing Director Jegan Durairatnam graced the event as chief guest.
The 'Arunalu Siththam' art competition was open to entries of school-going children from January 15, 2017 to March 31, 2017. The competition invited drawings from three age categories: Grades 1 to 3, Grades 4-6 and Grades 7-9.
Creating an exclusive space for young artistic expressions, the competition allowed participants to choose their own topics and colour medium. Subsequently, a whopping 12,500 works of art were entered into the competition.
The first placed winners of each category were awarded Rs.50,000, while the second and third placed winners received cash prizes of Rs.35,000 and Rs.25,000 each respectively. Cash prizes of Rs.15,000 and Rs.10,000 each was presented to the fourth and fifth placed winners of every category.
In addition to this, the bank also conferred merit prizes of Rs.5000 to ten highly commended child artists in each age category. Each winner was presented a certificate and an 'Arunalu' children's savings account with his or her cash prize.
The panel of judges for the competition included S.H. Sarath, a veteran Sri Lankan artist of international acclaim, who has the experience of hosting over 100 art exhibitions; Professor Ramyawardene Podinilame, the Dean of the University of Visual and Performing Arts; B.G. Jayanth Mendis, a retired senior lecturer from the University of Visual and Performing Arts and yet another veteran artist, Rienzie Fernando, the head of the creative department of 'Creative First.'
The bank said it is proud to have created an avenue for young creative expression and strives to encourage budding talent in the country.