---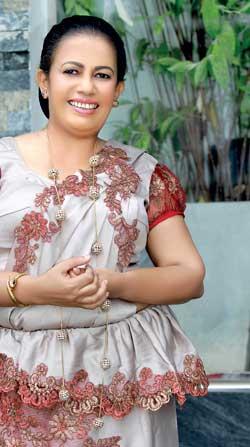 Manjula Malkanthi is a multi-faceted artiste, so much so that defining her or slotting her into one category has become a difficult task. As a radio artiste, Manjula Malkanthi is a known voice following the role she plays as Kekuli in the Muwan Pelessa radio play. That character has indeed taken her places and won her tens of thousands of loyal fans. She is also an SLBC B Grade singer. After a long lapse she recently launched her newest music album comprising 16 songs – of which 9 were penned by her.
Rohana Bogoda and Sunil Dharmasiri have directed music for the CD titled 'Me Tharam Adare' while Bhadraji Mahinda Jayathilake, Kelum Srimal, Ratna Lanka Abeywickrema and Shantha Kumara Vithana have penned the lyrics.

Manjula who is also a beautician, scripts radio and television plays in addition to excelling as a presenter attached to CRI – Chinese Radio International focusing on women's affairs and women empowerment programmes.

"I am grateful to CRI Director Seelaratne Senarath for providing me with this opportunity aimed at swirling the spotlight on women and all issues relating to women. This programme 'Hedakara Hendewa' is broadcast every Wednesday from 2 pm to 4.30 pm on 97.9. Chamila Vithanage assists me in the presentation of 'Hedakara Hendewa'," said Manjula.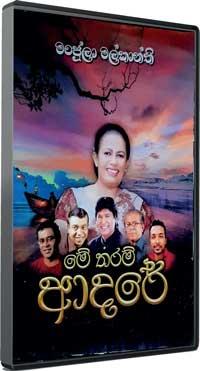 Manjula Malkanthi's songs on youtube are popular among song lovers and the positive feedback she received from them had inspired her to release her music album 'Me Tharam Adare'.

Manjula Malkanthi is also a talented dubbing artiste. She has lent her voice to several characters in popular tele dramas like Praveena, Sujatha, Mahagedara and others.

"But I love the dubbing contribution I made for the title role in 'Sudu Puncha'. My character as Kekuli in the Muwan Pelessa radio play is another turning point in my career. Many people ask me how I set aside my time to focus on such a variety of roles in the field of arts. I always believe that you should enjoy whatever you do. That is the key to tasting success in whatever position you are. I enjoy even the smallest part I play in diverse fields and I also put in my 100% into them. That is the secret of my success," said Manjula Malkanthi who is also planning some new projects in the near future.

Text: Ramesh Uvais
"Many people ask me how I set aside my time to focus on such a variety of roles in the field of arts. I always believe that you should enjoy whatever you do. That is the key to tasting success in whatever position you are. I enjoy even the smallest part I play in diverse fields and I also put in my 100% into them. That is the secret of my success."