---
UNP had already begun talks with other opposition parties to create a common platform in order to take control of the legislature, Party Leader Ranil Wickremesinghe said over the weekend.
Speaking at the UNP Bala Mandala meeting in the Galle electorate on Saturday, Mr Wickremesinghe said talks are already underway to have a common platform for all opposition parties in order to ensure a powerful parliament which will be an opening step towards allowing the younger generation to come to the forefront.
"As per the results of the presidential election, the entire Opposition is in a position to capture more than 103 seats in parliament. We can increase it to 110 or even obtain a majority of 113 seats if we work hard during the coming months. Using one's feet to campaign from house to house or using one's hands to distribute party leaflets is not sufficient to be successful. One has to use his or her's head to succeed in the next elections," Mr Wickremesinghe said. He said UNP was able to come back to power in December 2001 although President Chandrika Kumaratunga won the presidential elections in 1999. He said such a situation could be repeated once again.
Mr Wickremesinghe said he had already handed over the task of handling parliamentary affairs to the party's presidential candidate Sajith Premadasa. He said this is an important move.
He also requested all UNP MPs to visit all temples in their respective electorates and have a dialogue with the Maha Sangha so that the party will be able to determine their demands. "This is not a difficult task. Such activity is essential to win back the votes of the majority community which the party had lost," he said.
Mr Wickremesinghe recalled the four surveys conducted during the presidential election where the SLPP candidate Gotabaya Rajapaksa was far ahead in all these. "I advised the party members to intensify the campaign informing them that Mr Rajapaksa was ahead. Only Galle District MP Vajira Abeywardena worked hard and saw to it that Mr Premadasa won the electorate," he revealed. (Yohan Perera)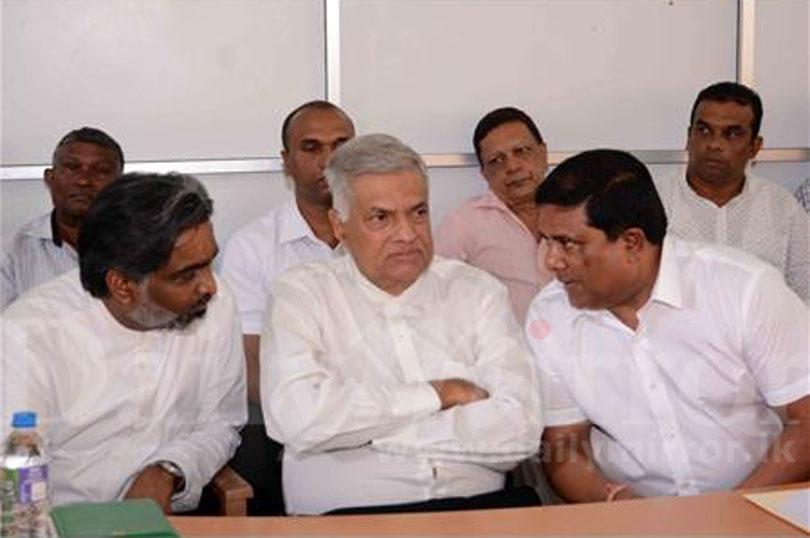 Pix by Pradeep Pathirana