---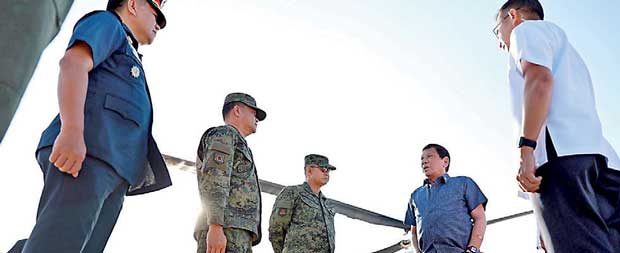 BEIJING - The Philippines president appeared to revive his quarrels with China on Thursday, ordering Philippine troops to occupy islands and reefs in the disputed South China Sea.

Rodrigo Duterte said that the military should build structures on all of the Philippine-held islands, reefs and shoals in the contested Spratly Islands - not far from seven man-made Chinese islands in the area.

China's construction of the islands is part of its claims of territorial sovereignty over the entire South China Sea, an important route for sea trade across Southeast Asia. Neighbouring nations strongly oppose Beijing's moves and worry that the runways and docks on the artificial islands could eventually have a military use.

Since winning the presidency last summer, the bombastic Duterte has struck a surpisingly conciliatory tone with Beijing.

It is not clear if Duterte was making a policy statement or another of his high-stakes quips.

If could suggest, however, that Duterte is returning to his confrontational stance with China after powerful domestic critics questioned his light-touch approach with Beijing.

Duterte also mentioned that he would like plant a flag on one island for Philippine Independence Day on June 12.

"It looks like everybody is making a grab for the islands there, so we better live on those that are still vacant," he said. "At least, let us get what is ours now and make a strong point there that it is ours," he added.

The Washington Post