---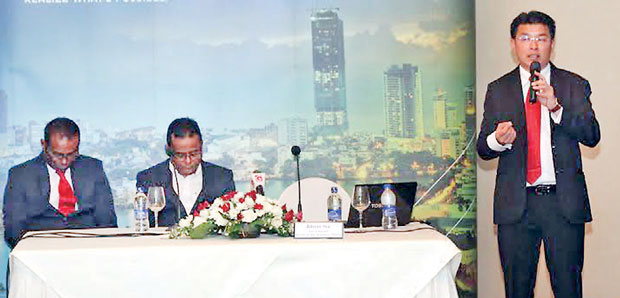 By Zahara Zuhair
If Sri Lanka executes on innovations and upkeeps with latest technological trends, its expectation of reaching the revenue of US$4 billion in the information and communications technology (ICT) sector by 2022 is achievable, VMware General Manager Adrian Hia said.
"Sri Lanka is advanced already. What is important is how fast you can keep the IT community updated with the changes and how fast you can react to the international competitors such as the Uber," he said.
Noting that Sri Lanka is very fast in terms of technology adoption, he said that Sri Lanka has seen phenomenal growth over the past years in mobile, mobile broadband, and fixed internet growth rates. He said that Sri Lanka was the first country to adopt 4G in 2013.
Sharing statistics, he said that Sri Lanka's mobile penetration rate is 113 percent, smartphone adoption growth rate is 41 percent, the average increase in number of mobile broadband connection from 2000-2016 was 96.5 percent and fixed internet growth rate was 68 percent.
He said that being present in Sri Lanka for past three years, VMware - which helps customers to accelerate their digital transformation - is committed to collaborating with organisations in Sri Lanka to equip them with the capabilities to accelerate innovation and growth in today's digital era.
"Businesses in Sri Lanka are undergoing digital transformation to differentiate themselves through new products and value-added services. By strategically applying IP solutions that are consumer simple and enterprise secure, these businesses can become more agile, efficient, and scalable," he said.
He said that they will continue to invest in local IT infrastructure, especially in training people. Hia said that they have already 250 customers in Sri Lanka.
Being a global leader in cloud infrastructure and business mobility, the company expects to enable digital transformation in Sri Lanka by helping local companies to modernise data centres, empower the digital workplace, integrate public clouds and transform security.
Noting that Sri Lanka's businesses require an end-to-end approach to provide a secure enterprise work environment from data centre to desktop and device, to meet this requirement, they said that VMware's digital workspace innovations deliver the applications and critical business information that employees need at any time and on any device.
Hia further said that nowadays business leaders embrace digital to innovate in agile ways, predict new opportunities, demonstrate transparency and trust, and to deliver unique and personalised experiences.