---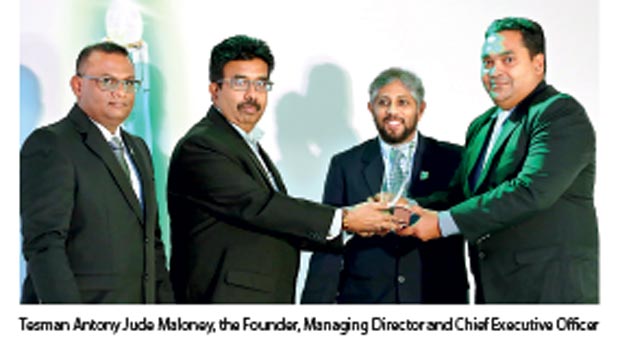 At a night termed as the Oscar awards of the Sri Lankan ICT industry, where the professionals who had produced the most innovative and futuristic ICT products were assembled under one roof, Tesman Antony Jude Maloney, the Founder, Managing Director and Chief Executive Officer of M I Synergy (Private) Limited was named ICT Entrepreneur of the Year 2017 at the 19th National Best Quality ICT Awards (NBQSA) held at the TAJ Samudra, Colombo.

Tesman holds a MBA from the Postgraduate Institute of Management – University of Sri Jayewardenepura, a Bachelor in Information Technology – BIT (external) from the University of Colombo and is an Associate Member (AIB) of the Institute of Bankers of Sri Lanka.

In 2006 Tesman stepped out from a career of over a decade in Marketing and Banking industry, from the safety net of a Senior Management Position of a bank to start M I Synergy (Pvt) Ltd, a tech start-up which commenced commercial operations in May 2006.

Funding the start up with a startup capital of only Rs. 2.5 million which was made up of proceeds of a housing loan of a friend and personal savings of Tesman, initial operations were based out of an upstairs unit of a house rented at Nalandarama Road, Nugegoda with only four staff members. Today the company conducts its operations from 8B, Somadevi Place, Kirulapone, Colombo 05, which is premises purchased in 2012 and is fully owned by the company with a staff strength numbering over forty.

Tesman's leadership has been the key in the company winning several accolades such as consecutive duel NBQSA awards in 2017, 2016 and 2015, APICTA nomination in 2017 and 2015 and also winning the E-Swabhmani e-business and e-commerce category in 2014. With primary focus on the Insurance and banking industry he has overseen the development of workflow and integration solutions for corporate clients who rank within the top 200 in Sri Lanka as well as multinationals operating in Sri Lanka.

Keeping with his vision of providing cost effective but high quality, efficient locally developed application systems and support to customers, all products are developed employing 100 percent Sri Lankan manpower which has helped in showcasing the skills and capabilities of the Sri Lankan ICT resources to the world as well as retaining the foreign exchange that might have been taken out of the country had the solutions been purchased from outside Sri Lanka.

One of the key strategic decisions made by the company was to focus on developing solutions based on open source technologies and in keeping with the principals of open source the company does not charge the customers user based licensing for the solutions provided.

The MISYN 'Cares' is the CSR initiative launched in 2016 by the company primarily focused on community activities geared towards fulfilling school infrastructure facilities and education needs in rural areas, with Kalahagala Primary School in Pollonnnaruwa being a key beneficiary during the last two years. The company also runs a scholarship program to provide financial assistance to deserving students as well as being a continuous sponsor of the Cross-Roads Career Guidance program conducted for A/L students in Kalutara division.