---
Nawaloka Hospitals PLC, Sri Lanka's pioneer and premier healthcare service provider, opened their newest Medicare Centre in Gampaha on June 19th.
The new facility will further extend their support to people in the Gampaha area by providing internationally-acclaimed and state-of-the-art healthcare solutions.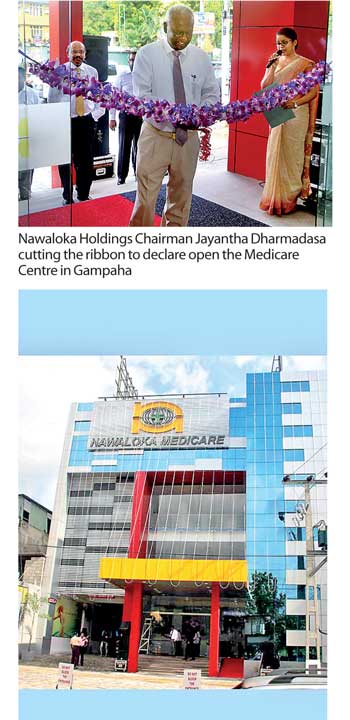 The grand opening ceremony of Nawaloka Medicare Centre - a fully owned subsidiary of Nawaloka Hospital Negombo in Yakkala Road, Gampaha was graced by Chief Guest Jayantha Dharmadasa, Chairman of Nawaloka Holdings and Nawaloka Hospitals. The senior management, consultants and several other officials of Nawaloka Hospitals were also present at the opening ceremony.
The newly-opened Nawaloka Medicare in Gampaha is equipped with a 24/7 emergency treatment unit, 24-hour pharmacy, 24-hour lab services, 24x7 ambulance service, OPD services, channeling services, ECG, Echo, EX ECG, X ray, dental unit, eye care unit and a fully-fledged maternity care unit. People in Gampaha district can now experience Sri Lanka's best healthcare services by the leader with all its modern high tech healthcare equipments and well-trained staff.
Expressing his views, Jayantha Dharmadasa, Chairman of Nawaloka Holdings said, "Today, we are celebrating another key milestone with the opening of Nawaloka Medicare in Gampaha. As the main force of providing Sri Lanka's best healthcare services, I strongly believe that people in Gampaha will be highly benefited with all the high quality healthcare services we have in store for them."
Nawaloka entered the state dominated healthcare sector in 1985 and was set up to mirror reputed hospitals in the region which offered advanced medical technology and expert medical care. With its entry the private healthcare system took root in Sri Lanka and people were provided with an alternative to seeking specialized treatment outside the country. The hospital was a pioneering initiative that built an impeccable reputation and has been at the forefront of the Sri Lankan healthcare sector for over three decades.