---
A team of globally renowned liver transplant surgeons comprising Prof. Dr. Mohamed Rela, Dr. Gomathy Narasimhan, Sr. Consultant – liver transplant surgeon, Dr. Naresh Shanmugam, Sr. Consultant – Paediatric Hepatology from Global Health City, presided over the re-union of the Sri Lankan patients who have undergone liver transplants at Global Health City, who came together on a single platform to share their experiences.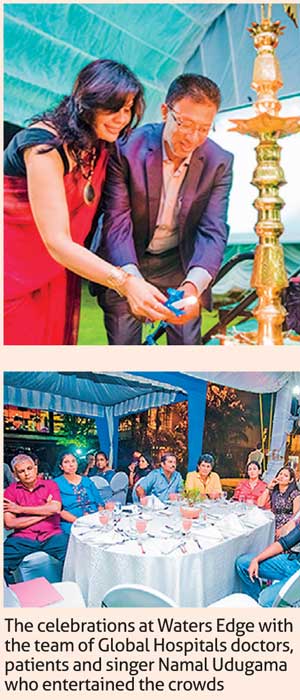 Namal Udugama an iconic singer, composer and songwriter of the island nation who had also undergone transplant surgery, performed a live concert to enhance the joy amongst patients through
his music.
Global Health City the flagship facility of Global Hospitals Group, one of India's fastest growing hospital chains, has performed liver transplantation on over 60 patients from Sri Lanka apart from many complex Liver and Pancreatic surgeries.
"The people present have all undergone a transplant over the last six years. Their presence here is a testimony to the fact that organ transplant is a safe solution to address liver failure. It might also be relevant to mention here that, we have performed a transplant on a child who was weighing less than five kilos who incidentally happens to be from Sri Lanka", said Prof. Dr. Mohamed Rela speaking on the occasion.
"It is a great experience to see patients transplanted few years ago to a few months ago, both adults and children return back to normalcy and enjoying a good quality of life. Children are back at school and adult patients are back to full productivity and taking care of their families. Definitely, they seem a lot more cheerful"."
M.F.A Riyas – Chairman & CEO Forte International said, "This is like a dream come true to see so many happy families getting back on track and sharing their experiences and happiness together. This was the motto of joining hands with Global Hospitals and the local doctors together, in order to provide the best of medical care to my Sri Lankan Brothers & Sisters".
The Organ transplant program of Global Health City is among the largest in South East Asia and caters to
almost 20 countries in the SAARC, Middle East and African nations.
Global Health City, Chennai is a 500 bedded super specialty tertiary care facility, with a capacity to expand to 1000 beds. It renders 360 degree advanced tertiary healthcare services with multi-super specialty and multi-organ transplant services. With the finest combination of expertise, experience, state-of-the art technology and well-coordinated team work, every step is aimed at ensuring excellence in patient care.
Global Hospitals Group started with its first Hospital a decade ago in Hyderabad. Today, it has nine hospitals with over 2000 beds, strategically spread across the country with branches now in Bangalore and Chennai and many more in advanced stages of planning and implementation. Each unit is a world class tertiary care multi super specialty Hospital with facilities matching the best in the world and offering advanced patient care of international standards.