---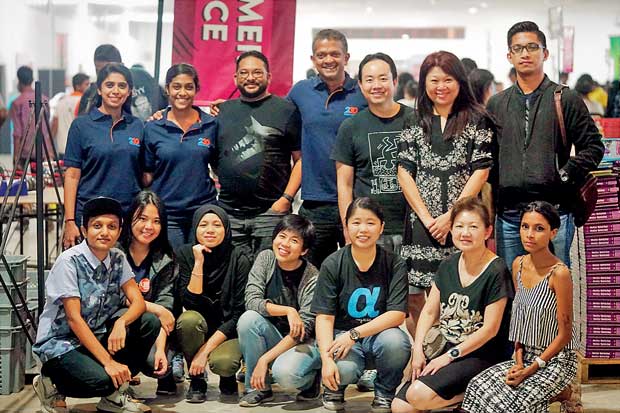 230i one Sri Lanka's most innovative digital media agencies, recently partnered with the Big Bad Wolf book sale to create awareness, stimulate conversation and engage audiences.
This was the first time the Malaysian book sale that tours around Asia came to Sri Lanka and ran for a period of eleven days nonstop at the Sri Lanka Exhibition and Convention Centre. The book sale and exhibition attracted over 92000 people.
Nigel De Zilwa, Digital Creative & Strategy Director, 230i said, "It's an honour for us to work with the Big Bad Wolf book sale, without a doubt the trailblazers in the category in Asia. Their unparalleled ambition in being the biggest English book fair with the widest selection is shared by every one of us. We had a lot of fun with the brief we received and the work we created was very breakthrough and smart. I believe the clients felt that way too. It's amazing to be partnering with this superb brand, and we are happy they believed in our approach to ensure that we reached their correct audiences via digital media and got tremendous numbers online and at the book sale over a period of eleven days."
Speaking about the partnership and the success of the event Deepak Madhavan, Partner Big Bad Wolf Book Sales Sri Lanka said, "We at Big Bad Wolf book sale's came to Colombo for the first time in 2017, our usual approach is to take up to a year, from the first idea to making arrangements and selecting partners, to actually arriving and setting up our sale. In Sri Lanka, we decided to expedite the plan to action within just four months."
Deepak further added, "230i won us over initially, primarily because of how well they captured the brand essence, perfectly and very quickly, at the pitch stage. From inception, they have delivered above and beyond and adapted well to a very intensive way of working, as we do in BBWBS. Despite Sri Lanka's digital footprint is relatively small, 230i has quite successfully managed to create a strong presence in social media for us, understanding the market really well and coming up with interesting and out-of-the-box ideas."
"Sanjay and his team at 230i have done an incredible job promoting Sri Lanka's first Big Bad Wolf book sale. From day one they have come up with and executed digital marketing strategies and engagement that have brought in the crowds and spread the love for our mission - offering great books at affordable prices. We have been so impressed we have engaged them to work with us in other countries too!" comments on behalf of Big Bad Wolf Books Andrew Yap - Managing Director in Malaysia.
230i have managed to garner much hype and excitement on Big Bad Wolf by getting over 967,843 Likes on the Facebook page and over 2,870,118 people being reached over a period of eleven days with multiple points of engagement. Providing Big Bad Wolf with a multi-layered approach to customer engagement which involved on-ground activation, digital media advertising and social media. 230i worked with multiple active online groups to help spread the message, by turning social media into a powerful referral network taking the advantage of vitality of digital. This resulted in minimum digital ad spend on the results achieved
Celebrating just ten years in the industry this year 230i provides digital campaigns, social media, content, influencer and activation marketing, web and mobile app development, media planning and buying as well as digital research, analysis and social listening.