---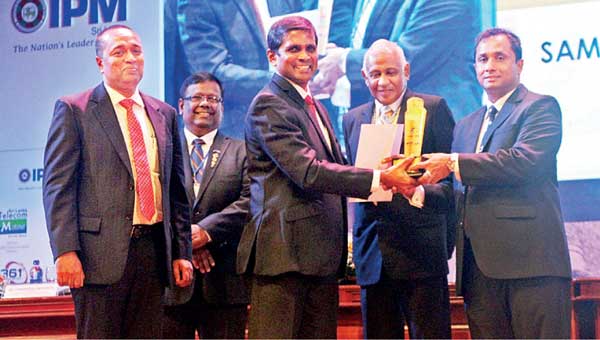 Aruna Jayasekera, Group Chief Human Resource Officer, Sampath Bank PLC receiving the award from. Rohitha Amarapala, President IPM
Sampath Bank was recently bestowed with the "National HR Excellence Gold Award" at the National HR Conference 2016 Awards Ceremony held at the BMICH, Colombo.

Organized by the Institute of Personnel Management, Sri Lanka, this award ceremony was conducted in line with the largest HR Conference in South Asia which gathers and represents the HR Fraternity alongside professionals from other disciplines, business leaders and local and foreign delegates, speakers and special invitees. "Winning this award has brought a great deal of pride to Sampath Bank as it is a testament to our efforts in initiating, implementing and valuing the best HR Practices within the institution we operate in. While we place a great deal of focus on our main line of business, this award is a recognition for all our stakeholders ranging from Sampath team, to customers, business partners, Employees' Association and more. We at Sampath Bank strongly believe that HR plays a role within the corporate system that balances all stakeholder interests whilst adding value to all", said Aruna Jayasekara, Group Chief Human Resource Officer, Sampath Bank PLC.

Jayasekara underlined the many highlights and initiatives the bank has accomplished and undertaken over the years in order to achieve the current state of excellence in HR and to bring success to the organization.
Starting off with employees, Jayasekara further explained the various platforms of training offered to their team members that facilitate a continuous learning experience. As an example, the e-learning platform created for employees with latest technologyenables employees to access e-learning via their mobile phones. This is a significant initiative which appeals especially to the 'Y' generation. "In Business Forum" is an another initiative which can be considered as an extension to Employee Suggestion Scheme where self nominated employees of any level can meet the Managing Director with their new business proposals and suggestions.
Sampath Bank is driven towards creating endless opportunities for their team members within the bank, providing equal opportunities for people to grow and develop.

The bank greatly encourages professional and personal development as well as team work through a range of programs which include focussed Training and Development, Executive Talent Development Programs and Mentoring andCounselling. Additionally, the Bank has set up a Leadership Academy – a unique initiative with a view to develop leaders at all levels. This initiative supportsleadership and professional skillsdevelopment of team members whilst contributing to the bottom line of the Bank.

Further emphasising on aligning with the bank's HR philosophy, Jayasekara highlighted a new and unique development initiative adopted by the bank: 'The Branch Bench Strength'. Shifting focus to the next important aspect of the bank, Jayasekara spoke of the various ways the bank and its team members meet customers' needs. "At Sampath Bank we are always driven towards passing our values to customers through high customer service standards. With the 'Yes Maximisation' project being implemented, the front liners ensure that customers are satisfied with the services offered to them along with the unlikely chances of being turned down or disappointed at not receiving a solution."