---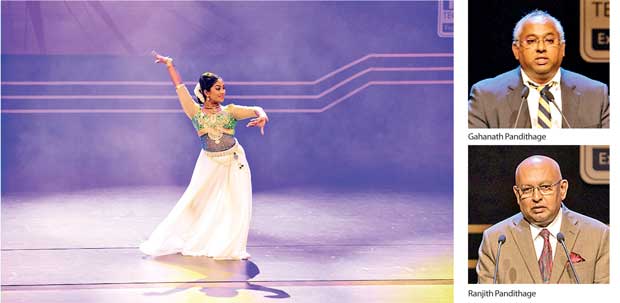 DIMO's 'Night of the Incredibles' awards ceremony is held annually to recognize and appreciate tribe membersfor their performance and good work.

This grand event was held recently at Nelum Pokuna theatre to acknowledge the top performers for 2017.

The event was inaugurated by the Chairman, Group CEO, Directors & the Group Management Committee (GMC) by lighting the digital lamp. Following this, Ranjith Pandithage (Chairman and Managing Director) expressed his expectations towards the tribe members in creating a high-performance organization. His passionate and motivating speech was followed by the address of Gahanath Pandithage (Group CEO) who detailed the growth plans for the Group and the transformations taking place in order to achieve them.

The agenda included a presentation by Dilrukshi Kurukulasuriya (Chief Human Resources Officer), which included a holistic picture of the Annual Great Place to Work Survey and the measures taken to augment the organization's human capital. Thereafter, Vijitha Bandara (Director), Wijith Pushpawela (Director) and Priyanga Dematawa (General Manager – Agriculture Special Projects) took the stage to present DIMO's extended business ventures and diversification plans ahead.These presentations reflected the organization's values, belief & culture, and how these should be aligned with the vision of creating a high-performance organization.

The highlight of the event was the presenting of awards which were split into several categories namely: Best Performers in Sales, Services and Shared Services. For the 'Best Performer' award, an exceptional performer from each business unit was selected based on multiple evaluation criteria. The 'Chairman's Award for the Best Idea of the Year' was presented to Krishnajith Wajirajeewa for his innovative initiative. The selection process for the grand title of 'Employee of the Year' included a challenging interview with each nominee and the GMC as the panel of judges. Wajira Gunasinghe was selected as the DIMO 'Employee of the Year' for 2017. In general, thekey criteria for the above mentioned titles demanded individuals who weresuitable to be a role model for the tribe.

Moreover, the event did not just create a platform for recognizing award winners but also provided a platform for the DIMO tribe to experience their peer's spectacular talents, which included traditional dance performances, melodious vocal duets, instrumental indulgence and stage acting – which wereallpulled off withstyle andelegance.

DIMO focuses on allowing employees to engage their talent and reinforce good performance in order to extract the best versions of themselves.