---
Court directs Admiral Karannagoda to appear before the CID on Monday to give a statement
Petitioner undertakes not to leave country without SC permission
Will not interfere with witnesses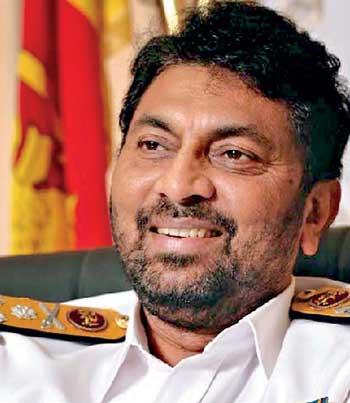 By S.S.Selvanayagam
The Supreme Court yesterday directed the Criminal Investigation Department (CID) not to arrest or keep under custody former Navy Commander Admiral Wasantha Karannagoda.
The Bench comprising Justices Buwaneka Aluvihara, Vijith K. Malalgoda and P. Padman Surasena made this direction and terminated the fundamental rights petition filed by Admiral Wasantha Karannagoda.

Court also directed Petitioner Admiral Wasantha Karannagoda to appear before the CID on Monday (11) at 9.am for the purpose of recording his statement.

The Petitioner gave an undertaking to the Supreme Court that he will not leave the country without the permission of the Supreme Court after notice to the Attorney General.

He undertook that he will present himself for questioning when requested.

He also undertook that he would not interfere with the witnesses.

Petitioner cited Officer in Charge Nishantha Silva and Director Shani Abeysekera of Organised Crimes Investigation Unit as well as DIG CID Ravi Seneviratne, IGP Pujith Jayasundara and Attorney General as Respondents.

Romesh de Silva PC with Sugath Caldera and Niran Ankatel instructed by Sanath Wijeyawardane appeared for the petitioner. Additional Solicitor General Viraj Dayaratne appeared for the Attorney General. J.C.Weliamuna PC appeared for an aggrieve mother of one abductee.

Petitioner states as follows:

On the 10th of May 2009, he received notice of an allegation that his security officer Lt. Cdr. Sampath had abducted certain youth and detained them within Navy premises in Trincomalee.

On the 10th May, the Petitioner was advised that the said Lt. Cdr. Sampath may in fact be guilty of committing the said offence.

On 28th May 2009, Lt. Cdr Sampath's officer's cabin was opened by the Naval Provost in the presence of the Police and many suspicious materials were found including large amounts of cash, promissory notes and identity documents of other persons. On 10th June 2009, Lt.Cdr. Sampath was arrested whilst absconding at the Army Head Quarters. .
Says he was advised that Lt. Cdr. Sampath may be guilty of committing said offence
Petitioner gives undertaking to present himself for questioning when requested