---
He had submitted a project proposal for a sports tourism-related hospitality project in response to a newspaper article
I did not ask for the Nuwara Eliya Golf Course to be given to me for 20 years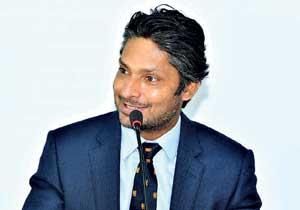 Responding to remarks of former MP S.B. Dissanayake, former cricket captain Kumar Sangakkara yesterday said he did not ask for the Nuwara Eliya Golf Course to be given to him for 20 years and that his proposal was for a small plot of land adjacent to it.
He told the media that he submitted a project proposal for a sports tourism-related hospitality project in response to a newspaper article calling for such a proposal, a few years ago.
"The Nuwara Eliya Golf Club for which I have extremely high regard belongs to its members and the leasing of which has never arisen even as a thought in my mind, let alone in conversation," he said.

He said he was asked some weeks ago by telephone, if he had submitted such a proposal some years ago.

"I answered yes. I also stated that I was awaiting the final decision by the relevant authority. The project proposal will be available at the relevant government authority for anyone to understand what it includes," said the iconic former Sri Lankan captain and wicket keeper batsman.

Former MP Dissanayake on Tuesday said Sangakkara has asked for the Nuwara Eliya Golf Course for 20 years to bring in one million golfers across the world to Sri Lanka annually.
The project proposal will be available at the relevant government authority for anyone to understand what it includes