---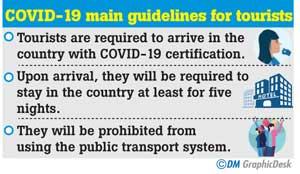 By Kelum Bandara
Sri Lanka is to publish health guidelines internationally soon for tourists as a move to resuscitate the tourism industry
hit by COVID-19, an official said yesterday.
Secretary to the Tourism and Aviation Ministry S. Hettiarachchi told the Daily Mirror yesterday that Sri Lanka would entertain tourists only after the Bandaranaike International Airport was open for international flight operations.

However, he said it is still uncertain when it could be done.

"We can internationally publish COVID-19 guidelines for tourists intending to come here. We have already finalised them in consultation with the health authorities. It is a lengthy document. We will notify the relevant international bodies through Sri Lankan missions. We can do it this week," he said.

Tourists are required to arrive in the country with COVID-19 certification. Upon arrival, they will be required to stay in the country at least for five nights. They will be prohibited from using the public transport system.

Mr. Hettiarachchi said the tourism industry had been hit by the pandemic severely.

"In additional, SriLankan Airlines, as the national career, is losing heavily. Airport does not generate any income. The industry wants us to announce the day of re-opening the airport. But, we cannot do it right now. It may be during the course of August after the general elections," he said.
We will notify the relevant international bodies through Sri Lankan missions. We can do it this week