---
The fleet of vehicles returned included a Mercedes-Benz Car (Model S600), Nissan Patrol Jeep, Mahindra Double Cab and a Toyota Land Cruiser-Jeep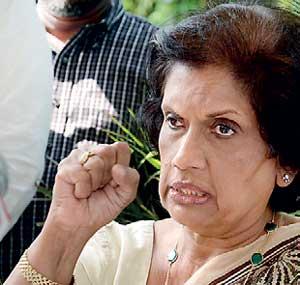 By Ajith Siriwardana
Former President Chandrika Bandaranaike Kumaratunga has returned four of the allocated fleet of vehicles for her office to the Presidential Secretariat earlier this month considering the financial constraints of the government.
A spokesman for Ms. Kumaratunga said she was ready to return another vehicle allocated to her office shortly.

She said in a letter addressed to Secretary to the President P. B. Jayasundara, that she had been allocated nine vehicles for her personal use and another three vehicles for her security division and four of the twelve vehicles were returned.

"Under the circumstances, when the Government informed us that they have serious financial constraints, I have decided to return four of the 12 vehicles allocated to me," she said.