---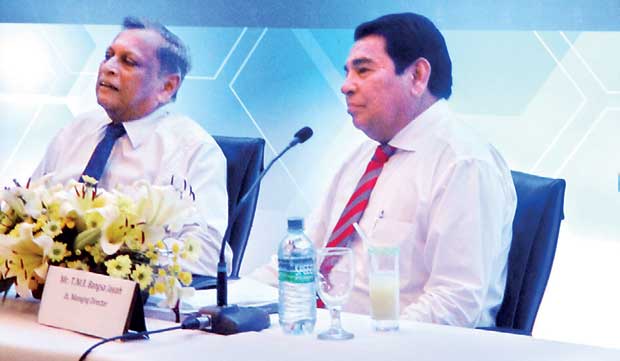 Sri Lanka Insurance Corporation (SLI) has recorded the largest Life Fund in the local insurance industry to-date with a ground-breaking Life Insurance Fund provision of Rs. 91.1 billion.
The General Insurance Fund, meanwhile, increased to Rs. 16.5 billion from Rs. 14.9 billion in 2015, a growth of 10.7 per cent. This was disclosed at a media conference held on July 5, at the company's head office in Colombo to announce the financial performance of SLI for the year 2016.
SLI, the pioneer as well as the leading national insurance company, recorded an outstanding performance during 2016 with total revenue recording a whopping Rs. 42 billion from Rs. 31 billion of the previous year.
Profit before taxation reached Rs. 13.8 billion from Rs. 4.8 billion in 2015, a growth of 186 percent, while Profit after Taxation grew toRs. 12.7 billion from Rs. 3.4 billion over the same period. The net profit growth is 270 percent.
The assets base also grew significantly to Rs. 176.8 billion in 2016 from Rs. 166.9 billion in 2015, pointing to a Return on Assets of 7 percent. The asset base is also the largest in the insurance industry.
The Gross Written Premium of SLI grew 13 percent to Rs. 28 billion from Rs. 24.5 billion. The Net Earned Premium grew to Rs. 24 billion from Rs. 20 billion over the corresponding period.
Over the past years, SLI has been declaring increasing bonuses to its Life policyholders, establishing itself as the Sri Lankan insurer to have paid the largest bonus in the history of the industry. The year 2016 was no different with a life bonus of Rs. 6.2 billion being announced for policyholders.
A dividend of Rs. 10.8 billion was paid by SLI to the government during the year under review. These achievements are especially noteworthy in a year which saw relatively slow market growth with a slightly less active economy.
Being backed by top international reinsurers such as Swiss Re and Munich Re has continued to safeguard SLI's position. Even when faced with a sharp increase in claims due to the floods of 2016, with claims worth Rs. 600 million being paid on natural disasters alone, its financial situation remained solid.
Chairman SLI, Hemaka Amarasuriya, while describing these achievements as remarkable considering the challenging environment, said there are more opportunities for SLI to grow in the future. "Our focus during the next three years will be on strategic intervention to realise most of this potential and drive growth rates to greater heights aimed at bettering the market rates of the past," he said.
He said: "We have commenced the outline for a new three-year business strategy from 2018 to 2020 including plans for rapid branch expansion. We continue to develop new, speclialised insurance products for specific target groups. We believe that controlled branch expansion will be the key to achieving a faster rate of growth within the next three years".
The company also plans to expand the insurance scheme for migrant workers, introduced in 2016 for Sri Lankans employed in Kuwait, to other countries in the Middle East. The pilot scheme was introduced in partnership with Gulf Insurance and Reinsurance Company to provide cover for migrant workers in case of accidents, death, disability, legal costs and repatriation.
Specialised insurance packages for the farming community, teachers and schoolchildren are also in the offing while an inbound tourist insurance policy is also being developed to ensure that visitors to the country are insured against death, disability and
health emergencies.