---
Saveyourmonkey.com, Sri Lanka's pioneering Insurtech startup which began operations earlier this year, announced their official launch following the trilingual launch of Sri Lanka's first digital insurance agent, 'Amaya'.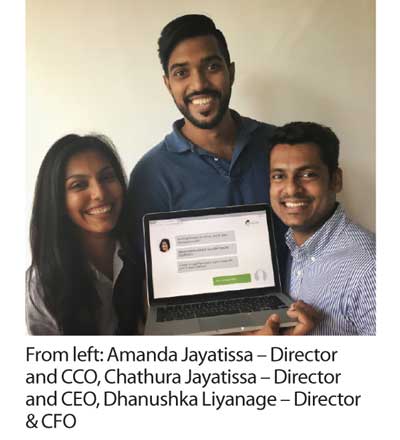 The startup aims to change the traditional perception of procuring an insurance policy as being a tedious legal obligation via digitalization, and tested its' platform and new ideas such as 'Amaya' in the market following the soft launch in February this year.

'Amaya', the innovative brainchild of the Save Your Monkey team, was initially developed in English and is the first of its kind insurance chatbotin the South Asian Region. 'Amaya' is a fun and easy way for customers to choose their insurance policy online and became immensely popular among users over the last few months while still at its testing stage.

Following this wide spread interest, the saveyourmonkey.com team jumped to action and worked to launch the 'Amaya' in all three languages to make it relevant and accessible to all Sri Lankans.
Speaking on the official launch of saveyourmonkey.com and the latest development with 'Amaya', Chathura Jayatissa, Founder and CEO of saveyourmonkey.com said, ''Aswe launch officially, we have made it our mission to change the public perception that procuring an insurance is a tedious task. 'Amaya' was designed using AI (Artificial Intelligence) components to respond to customer inquiries effectively and provide them with the best advice for their requirements. "We named the chatbot 'Amaya' in order to make our customers feel at ease and to make them feel like they arechatting to a friend. With the AI components at work, 'Amaya' interacts with customers as an actual person and thus quickly became popular among our customers.''

'Amaya' is a first of its kind not only in Sri Lanka but also in the region. While the rest of the world has experienced rapid technological advancements in the insurance industry, things have been slow to progressin this part of the world.