---
Veteran Sri Lankan Insurer and Managing Director of Janashakthi Insurance PLC, Prakash Schaffter was invited to share his learning from the Sri Lankan Insurance sector's shift to the Risk-Based Capital (RBC) framework, at the 3rd Asia Conference on Risk-Based Capital in Manila, Philippines recently.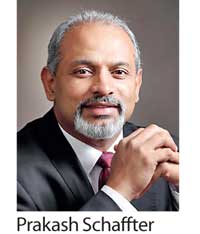 The two-day conference was organised by the Asia Insurance Review, one of the region's most respected publications in the Insurance sector, under the theme of 'Getting ready and strategic about RBC'.
Featuring a stellar speaker panel of over 20 senior Insurance sector representatives from across the region, the event was well attended by CEOs, CFOs and CROs of Insurance companies as well as senior regulators. The strategic conference was organised with the aim of helping companies better comprehend the power of RBC and prepare for the new regime while learning from the experiences of those markets already using RBC.
"Globally, the Insurance sector has been witnessing a steady shift from solvency based frameworks to risk-based capital frameworks. In an RBC regime, the capital to be held by an Insurer is determined based on an assessment of risks that the company should hold to protect customers against adverse developments. Seeing the merits of this system, both for Insurers and the insured, even more regulators are working towards adopting it," said Prakash Schaffter.
Schaffter noted that he personally believed that basing capital requirement on the risk profile of an organisation was a more realistic approach to valuing a company's assets and liabilities (i.e. financial position/strength of a company), making it consistent for all players in a market.
Speaking about Sri Lanka's journey towards adopting RBC, he added, "The Insurance Board of Sri Lanka, our national regulator, made the initial proposal to move to a RBC platform in 2008. However, we are privileged that they did not rush to roll this out in haste. The industry worked together on drafting the framework and fine tuning it till there was an optimal system and I am delighted to note that, with the guidance of our regulator and the collaboration of all stakeholders, we have successfully migrated to this framework, with RBC having been made mandatory from the beginning of 2016." Elaborating on the industry's learnings from the transformation, Schaffter stated that the decision to road test the system had proved to be very useful, whilst noting that companies need to have strong actuarial competencies to make prudent assessments of the company's risk profile. He further stressed on the need to educate senior management and board members and also the importance of providing them with the right tools to help better understand the impact of RBC on their day-to-day business decisions.