---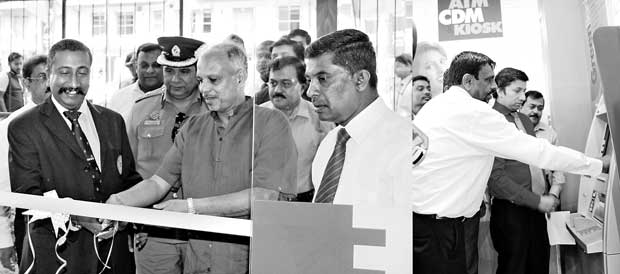 People's Bank Chief Executive Officer/General Manager N. Vasantha Kumar opens Nuwara Eliya self-banking unit
The latest self-banking unit (CDM/ATM/Kiosk) of People's Bank was inaugurated in Nuwara Eliya under the patronage of People's Bank Chief Executive Officer/General Manager N. Vasantha Kumar.
The latest self-banking unit in Nuwara Eliya marked a milestone in digital banking operations driven by People's Bank and facilitates an automatic teller machine (ATM), cash deposit machine (CDM), as well as a kiosk to make utility bill payments.
The newly established self-banking unit, which operates 24 hours a day and seven days a week throughout the year, will provide a hassle-free banking experience to the residents of
the area.
Nuwara Eliya Municipal Commissioner Ruwan Rathnayake, Nuwara Eliya Superintendent of Police Mahinda Dissanayake, Deputy General Manager Channel Management Bonifuse Silva, Deputy General Manager Banking Support Services Mahinda Premanath, Nuwara Eliya Regional Manager Prasad Ariyawansa, Nuwara Eliya Branch Manager H.M.A. Wijetunga, staff of People's Bank and the clients also participated in the opening ceremony of the self-banking unit.