---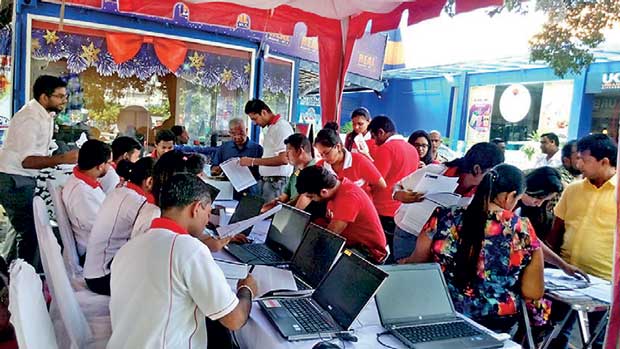 Over 150 new customers walked out with Christmas Bonanza vouchers at Arpico Hyde Park Corner after opening a new National Development Bank PLC (NDB) account and registering for NDB mobile banking.

As Christmas approaches, NDB offered customers new and improved ways to save both time and money. While doing their Christmas shopping at Arpico Hyde Park Corner on December 16, 2017, NDB offered over 150 new customers the opportunity to register for mobile banking with a deposit of Rs.1000 and receive Rs.2000 worth of Arpico vouchers.
Customers who arrived to do their shopping at Arpico were pleased to be a part of NDB's Christmas Bonanza.
"The NDB mobile banking app is very useful during these busy times, when we have no time to visit a bank. We are very happy that NDB is taking the time to make things easier for customers while also giving us gifts, especially during the Christmas season," one customer said.

"We only had to deposit Rs.1000 in a newly open account, make a transaction and then we were given a voucher of Rs.2000, which is in my opinion profit all the way."

Vouchers were awarded to all new customers who downloaded the mobile banking app and made a transaction then and there, following the deposit.

In the spirit of giving gifts during the Christmas season, NDB also had several mini-games with giveaways. The festive atmosphere was further amplified each time a participant won gifts or received a voucher.

NDB now bears witness to customers from many walks of life making use of its app to carry out their daily banking activities without a hassle. It has allowed customers in the outskirts of Colombo to instantly pay any bank credit card bill without the burden of travelling.

With the convenient facility of recharging any mobile network and the 'pay to mobile' facility, customers easily recharge mobiles of their loved ones instantly from wherever they are at any time of the day. The bank introduced its user-friendly mobile banking facility last year with the objective of bringing convenience and creating a trusted platform to carry out their day-to-day banking needs simply via the mobile device.The app also greatly convenience busy travellers who need guaranteed security for their credit card transactions. With the NDB mobile banking app customers now easily switch their credit card on or off from wherever they are. With the many other options of banking such as fund transfers, paying utility bills or transferring money to any other bank, etc. customers now get more time to enjoy life without having to rush while saving both time and money.

The bank strongly believes in making financial services more accessible to the dynamic working population since they require the ability to access information 'on the move'. In an era where practically everything has made its way into the mobile and the Internet, NDB has made it even easier, this Christmas, to save and shop at the same time.

NDB remains dedicated to bringing its customers one step closer to accomplishing their lifelong ambitions and uplifting their standards of living through the range of services that is accessible through its growing branch network.