---
One of India's well known forensic technology experts, Prashant Bhat was in Colombo recently to share his insights and to educate members of the Institute of Chartered Accountants of Sri Lanka (CA Sri Lanka) on forensic accounting.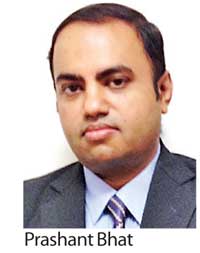 Bhat, who is the Associate Director at KPMG (Mumbai) was part of the resource panel on the Certificate Course in Forensic Accounting conducted by CA Sri Lanka. Bhat who specializes in Forensic Technology spoke on the topic 'Computer Aided Forensic Accounting Investigation Techniques' to the participants of the course.
A Chartered Accountant by profession, Bhat, is the Associate Director of Cyber Risk & Cyber Forensics at KPMG, Mumbai, India. His core service areas include; IT Risk Management, IT Audit and SAP Audit, as well as Information Technology Consulting and IT Security and Data Analytics.
In its capacity as the national body of accountants, CA Sri Lanka launched the Certificate Course in Forensic Accounting in May this year, in an effort to combat increasing fraud in the country, and to impart knowledge and skills in Forensic Accounting amongst Chartered Accountants.
The Certificate Course in Forensic Accounting covered pertinent areas associated with modern forensic and investigative accounting, helping participants gain a thorough understanding on the principles and practices used by public accountants, internal auditors, and others on how to examine financial and other related information.The course covered key topics such as fraud auditing, litigation support, valuation, and cybercrime, among other key forensic topics, which are relevant in the current context.
The 15 week course, featured a high profile panel of experts including Jagath Perera, Partner of KPMG (Sri Lanka), Dr. Wickrema Weerasooria, Attorney at Law and the Insurance Ombudsman of Sri Lanka, Averil Ludowyke, Partner of Ernst & Young Sri Lanka, Ashane Jayasekara, Partner - Risk, Forensics and IT of BDO Partners, Laknath Jayawickrama, Attorney-at-Law of Sudath Perera Associates, C. S. W. Anthony, Manager - Audit & Assurance of B. R. De Silva & Co and Bhat.