---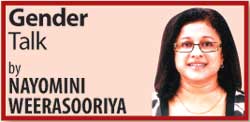 She is considered easily Asia's best-known woman, a figure that commands tremendous respect and even reverence for the quiet struggle she has led on behalf of her people. Aung San Suu Kyi needs no introductions – the lady embodies true Buddhist principles and believes that violence does not solve anything – her inspiration has come from the non-violent struggles of Mahatma Gandhi and Rev. Martin Luther King.

There are lessons for us, CEOs and all to learn from this much-celebrated woman who single handedly lit Burma's flame of courage and hope. Aung San Suu Kyi is not only a beacon of hope for democracy everywhere but she is also an icon for millions of women who fight for their rights throughout an unfair world.

Steel under grace
Suu Kyi is true steel under grace – in that down-to-earth Asian fashion, her fight has not been fought with weapons and might but with quiet resilience and determination. And in the end, her patience triumphed over all else; she won the race – for herself and for Myanmar.

Under house arrest for 24 years, away from her dying husband and her two sons, when what was a short visit to attend to her ill mother in Myanmar turned out to be a life's cause for democracy in her country, she did not complain.

She had to endure her husband's terminal illness and pass up watching her sons grow into manhood. Her husband eventually died of prostate cancer, having been refused even the last dying wish to see his wife just once more.

Her children grew up without their mother by their side. You would expect someone who has had to sacrifice so much to be bitter about it. Not Aung San Suu Kyi – she had sacrificed for her country, her people.

She chose to put duty, an alien concept to most people today, above personal gratification. She remains cheerfully confident of a brighter future for her country; her sacrifice has not been in vain. A few among us could aspire to possess such soaring ideals; yet, hers is a story we could all be inspired about.

She never gave up. She could have thrown her hands in the air and given up on what seemed a hopeless fight for democracy. She chose not to. Instead of being exasperated by a long wait, she opted to wait it out. During the wait, she was never forgotten by the world.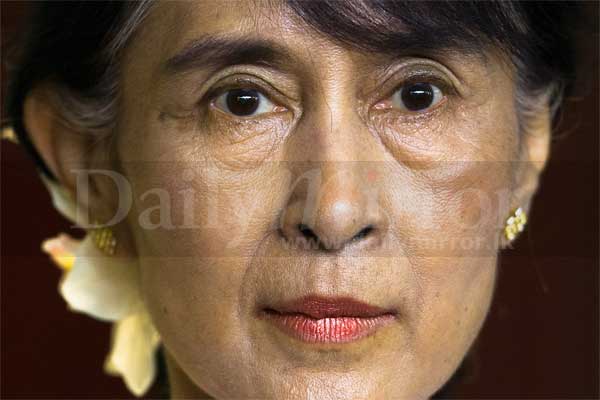 Vision of hope
They awarded her the Nobel Peace Prize in 1991, which she could only collect this year when she visited Europe. Following the infamous cyclone Nargis that devastated Myanmar, she had to live in darkness, without electricity, in a house falling apart. She didn't mind – her vision was too far deep into a future of hope.

She kept her eyes on the destination and was never intimidated by the journey. She was certain of the goal and never wavered in her determination to reach that. Time and again, the circumstances were more than she could have handled but she never cracked. She knew one day, it would all be worth it. And that day came soon enough.

She was backed by her people. They knew her capacity and her capability to achieve their dream. They stood by her – loved her through it all. The Burmese living in exile around the world rallied around her and made her voice heard.

They galvanized worldwide support and built a strong base around their cause. They understood why she gave up all to stay with them. One of her key features and a powerful one was empathy; she never deviated from her commitment to her people, to her country, to democracy. She had a vision and that vision kept her going.

Suu Kyi never allowed herself to become a symbol of violence against Burma's ruling military junta. When asked on a BBC interview if she wanted to see the junta fall, her reply was in her typically elegant yet quiet manner, "I don't want to see the military falling," she said, "I want to see them rise to great heights."

The world fell in love with not merely her persistent yet dignified effort to bring democracy to her country but also with the graceful Asian woman who never departed from her traditional demeanour. Although married to a westerner and having lived in the west for a large portion of her life, she never aspired to play the role of a 'kalusuddha'.

While under house arrest and even after her dramatic release in 2010, she wore her traditional lungi and the flowers in her hair, a symbol of hope to all Burmese. She stayed true to herself and was always who she was – her father's daughter whose deep love for her country was above all else, her call.

Freedom from fear
In her famous 'Freedom from Fear' speech, she said, "The quintessential revolution is that of the spirit, born of an intellectual conviction of the need for change in those mental attitudes and values which shape the course of a nation's development. A revolution which aims merely at changing official policies and institutions with a view to an improvement in material conditions has little chance of genuine success."

Suu Kyi's voice has been heard around the world – she has been recognized globally and been awarded the Rafto Prize, the Sakharov Prize for Freedom of Thought in 1990, followed by the Nobel Peace Prize in 1991. In 1992, she was awarded the Jawaharlal Nehru Award for International Understanding by the Government of India and the International Simon Bolivar Prize by the Government of Venezuela.

The Government of Canada made her an honorary citizen in 2007 – one of four people ever to receive the honour. The US Government awarded the Congressional Medal of Honour in 2008. In 2011, she was awarded the Wallenberg Medal. On her recent European tour, she was invited to Dublin Ireland, where accompanied by Irish singer Bono, she received her Ambassador of Conscience Award from Amnesty International.

On her tour to Europe, the first in a long time, she has been welcomed warmly and has been meeting government leaders, Royalty and other distinguished guests who have been eager to shake her hand. Yet, she remains untouched by the honour, not willing to bask in the glory of being Suu Kyi. She remains unchanged and unfazed, with her sights on a Myanmar of tomorrow.
She has always carried with her a sense of freedom: "My mind had always been free," she said – a perception that is shared by her people in Myanmar. A vision that gave her the strength and the patience to remain committed to work tirelessly.

There's something about her that inspires us all – the woman that she is, the femininity that has not been replaced by arrogance despite the accolades and the honours that have come her way. The unarming smile, the gentle manner of a gracious lady teaches us all a thing or two about staying humble in face of great achievement.

(Nayomini, a senior journalist, writer and a PR professional can be contacted at nayominiweerasooriya@gmail.com)