---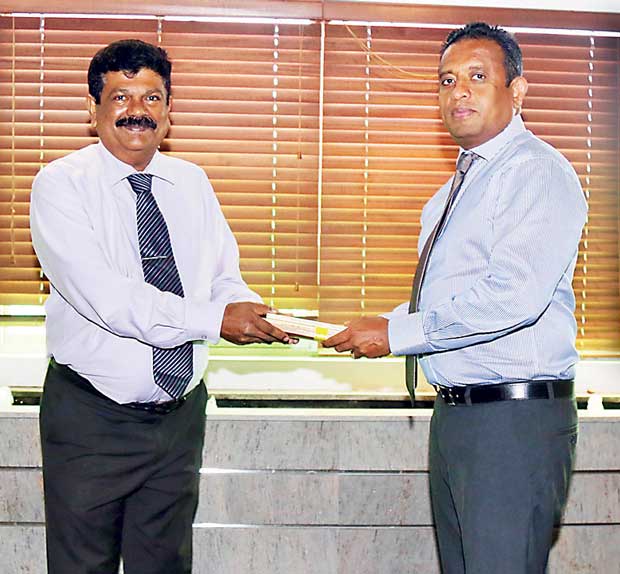 Wijesekara presents his latest book in Wood Technology to Skills Development and Vocational Training Minister Chandima Weerakkody
President Maithripala Sirisena has appointed Channa Wijesekara as a Member of the Tertiary and Vocational Education Commission (TVEC) on 14 July for a period of four years at the request of Skills Development and Vocational Training Minister Chandima Weerakkody.

The Commission functions under Ministry of Skills Development and Vocational Training.
With the Government giving priority and placing great importance to skills development and vocational training in order to have a more skilled and knowledgeable workforce there by providing a more competent personnel to the industrial sector, the appointment of Wijesekara is timely as he is no stranger in the field of vocational training and skills development. In fact he could be considered as one of the remaining active pioneers in this field. His connection with skills development and vocational training goes back to the 1970s when he held the position of Training Officer/Lecturer at NAITA and the Member of the Governing Council of Apprenticeship Training Institute (ATI), Moratuwa.

Wijesekara's experience and knowledge will be immensely useful to improve and upgrade the curriculum and prepare plans and strategies for the future.

Being an Incorporated Civil Engineering Diplomate from the University of Moratuwa Wijesekara also successfully completed a two year full time programme on Wood Technology for Technical Teacher's.

In addition he has completed several other courses such as Diploma in Educational Administration, Project Planning, Industrial Coordination and Entrepreneurship Development in Germany, the Philippines and Thailand.

He is the Founder/Managing Director of Leema Creations, a leading interior solution provider and furniture manufacturer. He is also the President of Wood and Wood Based Industrialist's Association of Sri Lanka, the Chairman, Advisory Council on Wood and Wood Based Sector, Ministry of Industry and Commerce and a Council Member and Fellow of Institution of Incorporated Engineers (IIESL) Sri Lanka.

Wijesekara is selected as the Gold award winner of Large Category National Level at 'Entrepreneur of the Year' from Federation of Chambers of Commerce and Industry (FCCISL) for two consecutive years, that is 2015 and 2016.

In addition he has won several awards including the Large Category National Bronze Award at 'CNCI Achiever of Industrial Excellence- Awards' from Ceylon National Chamber of Industries (CNCI) in 2015.