---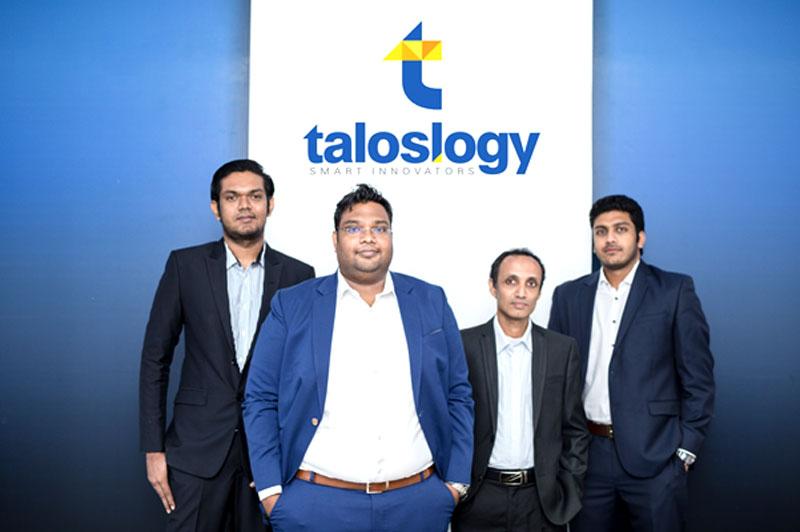 From left: Director/chief Architect Manoj Fernando, Director/CEO Thilanka Mendis, Director/CTO Rumesh Paranavithana and Director/CMO George Paul
Taloslogy (Pvt.) Ltd, an information technology start-up company, declared open its new state-of-the-art development centre, in Moratuwa.
The new office is located on the sixth floor of the DMN Super building in the heart of the Moratuwa town. The new development centre consists of a 20-seat workstation area, a high standard meeting room and an advanced IoT lab facility for research and development.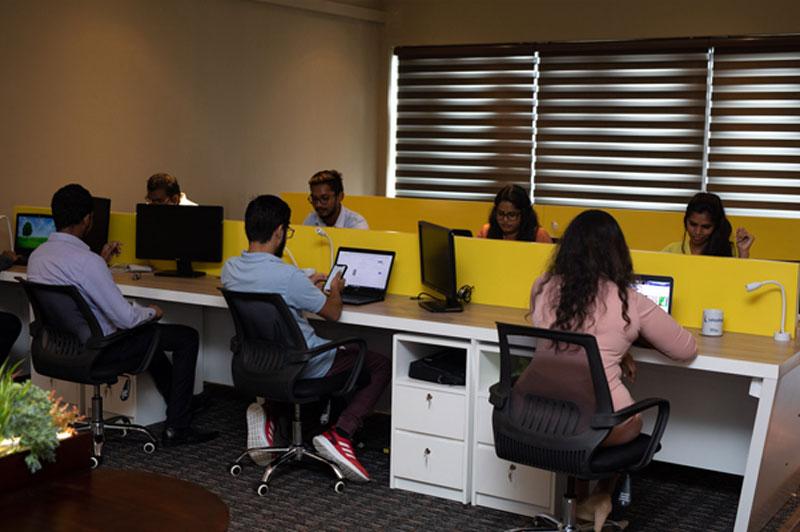 Taloslogy is an agile organisation, which delivers rapidly changing IT services. Enterprise and mobile application and platform development, smart/IoT concepts and solutions, including device designing and manufacturing, data analytics and AI solutions, immersive technologies (AR/VR) implementation, game development, systems integrations and contact centre outsourcing, are among major focused areas of the organisation. It is currently engaged in executing overseas projects in Canada, Europe, Australia, Cambodia and Myanmar, as well as local projects.
The company's vision and mission statement is focused on empowering the society with digitalisation and automation and to become one of the leading end-to-end IT services organisation in the region.
It had a soft opening of its new establishment with a closed gathering.
"Our team is the core element in our organisation growth and we want our employees to experience Taloslogy as 'The Company' in their career rather becoming 'A Company' in their corporate journey and we are committed to deliver that," highlighted Director/ CEO Thilanka Mendis, during his inspiring speech at the opening event.
"We deliver the best in class technology solutions and not limited to a narrow portfolio. We always go the extra mile to offer a complete solution, which relieves customers' challenges and pain points," Director/ CTO Rumesh Paranavithana elaborated during his note.
"We are not a traditional IT organisation, which always looks for opportunities in large corporates. We really wanted to empower SMB – small and medium businesses with the latest technology and drive them in the digital journey at an affordable cost," Director/ CMO George Paul said during his note to the customers. He made a presentation during the launch.
"New development technologies evolving rapidly and we thrive Devops to deliver faster go-to-market solutions to our customers with confidence. We believe quick learners and multi-skilled developers are our strength and success delivering excellence to our clients," Director/chief Architect Manoj Fernando explained during his discussions with invitees.
They have also introduced their new homegrown product "Restaurantlogy" which offers a complete digitalized solutions for small, medium and large restaurants, food suppliers, food joints, etc. Solutions included with Inventory / Ingredient Management System, online ordering platform with optional Android / iOS Mobile apps, point of sales (POS), delivery driver management module, internet payment gateway integration, SMS / email messaging, automated Uber order management, comprehensive dashboards for kitchen and operational tasks. Further they are offering enterprise grade contact center and delivery operation outsourcing. Restaurants can focus on making more innovative & tasty food on-time and the solution will eliminate all the bottlenecks and operational burden from the owner or the management staff of the restaurant. Product has made affordable for small and medium food suppliers and can enroll for monthly subscription option. (visit www.taloslogy.com for more information)