---
Sunshine Healthcare Lanka (SHL), part of the Sunshine group of companies, has continued to invest in building its team with a passion to win.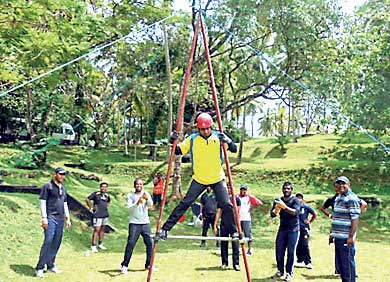 "We recently launched a series of unconventional training programmes, making experiential learning a big part of the HR learning space," Human Resources Group Head Michelle Senanayake said.

"We have also organised events to recognise individual contributions, enabling a major boost as far as motivation was concerned where staff were encouraged to take on further challenges."

Talent retention is one of the company's performance metrics and SHL has continued to evolve its methods of engaging its young and dynamic workforce. Staff surveys have helped us to understand the needs of our staff and align the employee agenda with that of the company.

Using experiential learning as a platform, a series of programmes were customised and carried out in the last few months to develop leadership potential, motivate staff and enhance team spirit.

"Ensuring higher participation and experiential learning was the key driver behind the learning curriculum at SHL. Training programmes are crafted to suit the specific needs of staff at all levels and drive a common understanding of company goals," noted Michelle.

SHL teams comprising of 450 members of staff from a cross-section of divisions participated in a series of learning activities held at the Sarvodaya Educational Training Centre in Bandaragama, based on situational issues typically faced by members of the organisation.

Conducted by Wild Drift, an organisation renowned for specialisation in team building and leadership training for top corporates, the tailor-made programme tested and taught endurance and was aimed at enhancing team spirit through a number of activities.

These programmes presented an opportunity to inculcate 'winning culture and drive a passion to win' in team players, and help towards displaying high levels of passion and team commitment.

Commenting on the results seen post these programmes, SHL Managing Director Shyam Sathasivam observed, "My teams display a very high level of energy, they are very vibrant and positive."

SHL aims to maintain its position as the most sought-after healthcare solutions provider in the country and continue to play the crucial role of ensuring the health and wellbeing of the community.

Towards this end, the company's human resources division plays a key role in inculcating a performance-driven culture, encouraging and rewarding performance and attracting and retaining talent.