---
By Zahara Haris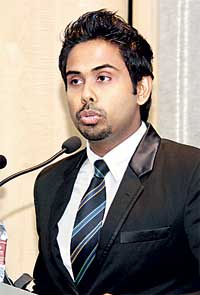 ACL Cables, the pioneers of Sri Lanka's cable market introduced two of its latest products recently named 'Fire Zero' and 'Fire Survivor'.
ACL Cables continues to be market leaders by having over 70 percent of market share as a group and enjoys an annual turnover of Rs.13 billion.
Since 1962, ACL cables has been in the industry by introducing new products and technology to ensure safety, and at present it is the largest manufacturer of cables in Sri Lanka.
Addressing the gathering, Suren Madanayake, Managing Director of ACL Cables said, "In ACL Cable, quality is number one. Looking at quality, few things come to it, a talented work force, a technologically-advanced machinery and also the comprehensive laboratory to do all the tests for the cables. ACL cables has a comprehensive lab which no other can boasts of."
Sumudu Thanthirigoda, General Manager of ACL Cables explained the benefits of the newly introduced cable 'Fire Zero' which is a low smoke Halogen-free product.
"Key benefits this cable will have are that it doesn't have the exact negativities a PVC cable has, it doesn't emit black smoke, and it doesn't emit acidic gases as it is made of Halogen free compounds."
"The beauty is that, even in a short circuit if a fire takes place, it can extinguish it then and there because of fire retardant qualities." he said.
ACL 'Fire Zero' being highly fire retardant offers a perfect guarantee that fire generated due to an electrical short circuit would be immediately extinguished without allowing it to spread along the cables.
Also he explained about 'Fire Survivor' which has the same qualities of 'FIre Zero'. The uniqueness of this is it has proven to survive and maintain circuit integrity in the midst of a fire raging at 950C for a minimum of 3 hours. This gives adequate time for fire fighters to douse the fire and allow those trapped in the fire to escape. And the architecture of this product is also similar to Fire Zero but in addition it has a fire barrier on top.
Whoever interested in buying their products can witness the testing by themselves before purchasing, he added.