---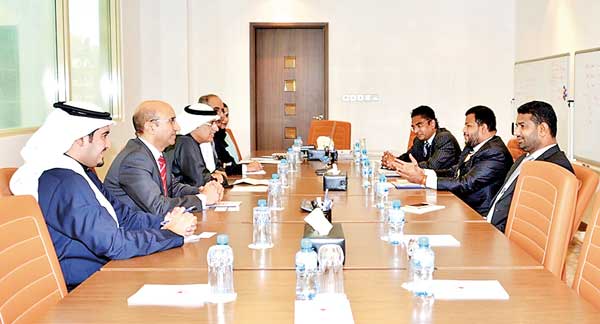 Minister of Industry and Commerce of Sri Lanka Rishad Bathiudeen (at right) meets Minister of Industry, Commerce and Tourism Rashid Alzayani of Bahrain
Minister of Industry and Commerce Rishard Bathuideen's visit to Bahrain concluded, deepening and elevating the economic, commercial and investment relations between both countries.

Minister Bathuideen held meetings with the ruling monarch of Kingdom of Bahrain, prince Salman bin Hamad Al Khalifa and Bahraini minister of Industry, Commerce and Tourism Zayed bin Rashid Al-Zayani and the minister was accompanied by the Ambassador of Sri Lanka in Bahrain Dr. A Saj U Mendis and minister's Coordinating Secretary Riyaj Bathuideen.

Minister Bathuideen said that the two countries have not yet exploited and have not gained the strategic advantage of outsourcing and investment opportunities and the natural endowments.
Both minister Bathuideen and Zayed agreed that bilateral trade still hovering around the US $ 25-30 million range and Foreign Direct Investments (FDI) and Foreign Institutional Investments (FII) are minimal from Bahrain to Sri Lanka and vice-versa, thus agreed to enhance and to boost the relations with greater pro-active cooperation, collaboration, facilitation and partnership.

Minister Bathuideen stated that Sri Lanka is ideally positioned for Business Processing and Outsourcing (BPO) and Knowledge Processing and Outsourcing (KPO) sectors and is apt for the corporates and industries of Bahrain to gain benefits and could reduce their cost of production drastically by outsourcing the facilities to Sri Lanka.
This would enable such corporates to have direct and easy access to the 1.6 billion market of Indian sub-continent.
The corporates Minister Alzayani responded that his country is keen to engage with Sri Lanka on economic and commercial trajectory, which benefits both sides. He added that the Kingdom of Bahrain and his ministry would look in to Sri Lanka's favourably given optimistic and idealistic investment climate.

During his visit, minister Bathuideen addressed an Investment Forum organized by the Embassy of Sri Lanka, attended by over 60 selected corporate leaders, business personalities and leading Sri Lankan entrepreneurs, mostly from the Bahrain Asian Traders Committee (BATC) and from the high profile Bahrain Chamber of Commerce of Industry (BCC).

At the Forum, both minister Bathuideen and Dr. Mendis outlined the investment and economic scenario of the country and urged the corporate leaders of the Chambers of Bahrain to visit Sri Lanka for the forthcoming 'Sri Lanka Investment and Business Conclave 2016,' scheduled to be held in March.

Sri Lanka's total trade with Bahrain stood at a nominal US $ 26 million in 2014 while Sri Lanka's exports were at US $ 19 million and imports were at US $ 7 million. Sri Lanka's main exports to Bahrain in 2014 were tea, food preparations, spices, tyres and other rubber products etc. Main imports to Sri Lanka were oil, petroleum products, frozen fish and woven fabrics of cotton.