---

The Management from Singer Sri Lanka PLC and Sony including Sony International (Singapore) Ltd Sri Lanka Representative Office Branch Head Justin Wong, Singer Sri Lanka PLC Chairman Mohan Pandithage, Group CEO Asoka Pieris and Marketing Director Kumar Samarasinghe officially launching the Sony Bravia OLED TV range in Sri Lanka
By Harshana Sellahewa
Introducing new additions to its product portfolio, Sony Electronics launched its new range of Bravia OLED televisions, 'X series' and 'A series' product lines to the Sri Lankan market, in collaboration with the authorized distributor of Sony products to the local market, Singer Sri Lanka recenly.

Founded in 1946, Sony is now one of the leading professionals for electronics, gaming and entertainment around the world. The company is headed by Sony Corporation CEO and President Kazuo Hirai, who believes Sony to be: "Is a company that inspires and fulfills your curiosity." Established in 1999 and based in Singapore, Sony Electronics Asia Pacific Pte. Ltd is a subsidiary of Sony Corporation.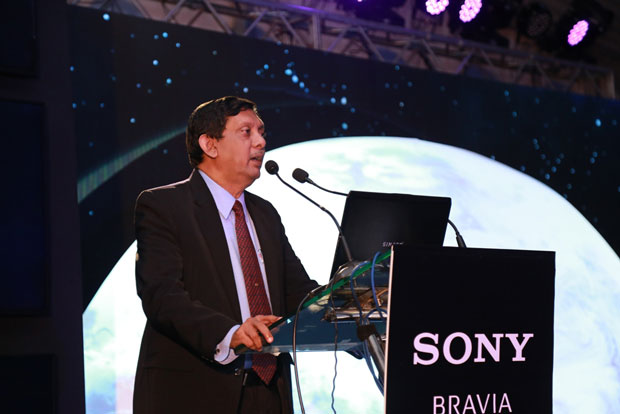 Singer Sri Lanka PLC Marketing Director Kumar Samarasinghe delivering the keynote address

The Sony Bravia OLED product ranges were unveiled at a grand launch event held at Taj Samudra Hotel, Colombo, on 19th October, with entertaining acts and musical performances held to grace the launch event.

Speaking at the launch event, Sony International (Singapore) Ltd Sri Lanka Representative Office Branch Head Justin Wong said: "This year Sony will continue to focus on 4K TVs and especially larger screens to create and expand consumer demand. To lead the 4K TV market, Sony will redefine the 4K TV segment by delivering an enhanced 4K HDR TV experience."

"Sony shows the can do spirit. Imagine this, a vibrating display that enables sound to be output directly from the TV screen making this the perfect unity of picture and sound, which conventional TV cannot realise," added Wong.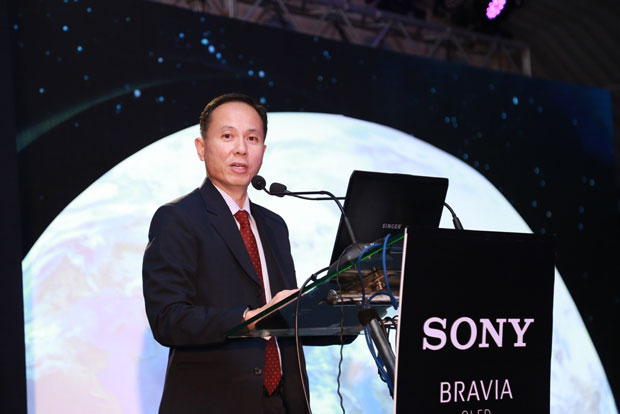 Sony International (Singapore) Ltd Sri Lanka Representative Office Branch Head Justin Wong welcoming the gathering

Sony Electronics also announced an additional array of 4K HDR and Full-HD HDR televisions for retail in 2017. They all incorporate Sony's proprietary technologies including the newly developed 4K HDR processor X1 (X90 and X85E series only) to deliver industry-leading picture quality.

The keynote address was made by Singer Sri Lanka PLC Marketing Director Kumar Samarasinghe. "Today we are launching the Sony Bravia, that is the number one in quality. They've gone one step ahead and introduced to the Sri Lankan market the Sony OLED. But I'm sure, we at Singer, will give our fullest support for this product line, and at the same time I'm sure our friends and staff will be benefitted with this kind of product with very high technology and cater into our sector of the market and who would journey with us to fulfill their requirements."

Sony's unlimited passion for technology, content, services and relentless pursuit of innovation, drives it to deliver ground-breaking new excitement and entertainment in ways that only Sony can achieve.
The products will be available island wide through Singer Plus, Singer Mega, Sisil World and dealers island wide.