---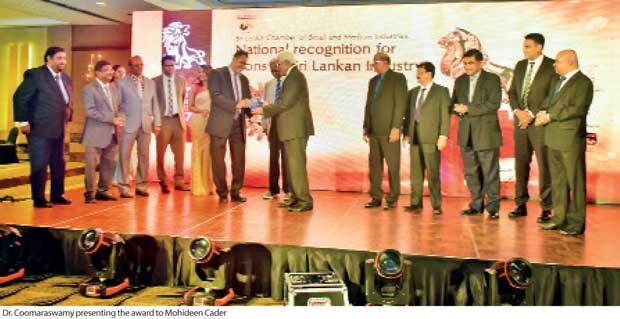 President of Sri Lanka Chamber of Small and Medium Industries was appreciated at the recently concluded awards ceremony organized by the Chamber itself in Colombo.

Central Bank Governor Dr. Indrajith Coomaraswamy graced the occasion as chief guest. The incumbent president, Mohideen Cader who held the post for the last five years thanked everyone who helped tremendously during
his presidency.

He further mentioned the importance of the small industry which contributes more than 50 percent towards the development of Sri Lanka's economy which would be a significant record.

He invited small industry entrepreneurs to come forward bravely to improve the economic situation of the country.

He specially thanked his staff for the tremendous support lent him during his period and invited the upcoming president to do a better job than him for the betterment of the Chamber as well as the country.