---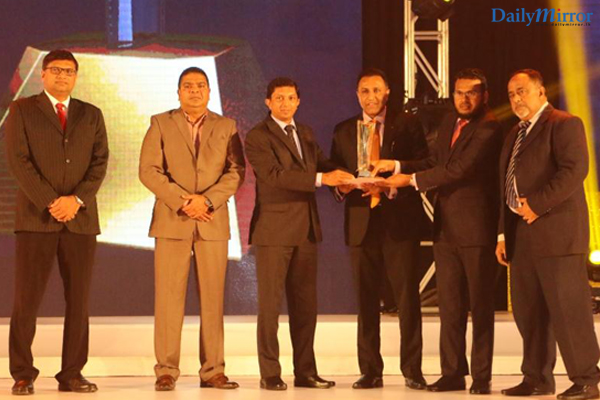 Kalinga Wijesekara – Head of Marketing and Communication, Serendib Flour Mills, Mohammed Reyal – Director Serendib Flour Mills and Abdul Cader, Director Sales and Marketing Serendib Flour Mills, receiving the Silver award for B2B at SLIM Brand Excellence award
Serendib Flour Mills (SFML) recently won a Silver award in the B2B Brand category at the prestigious SLIM Brand Excellence Awards, which took place at BMICH recently. The prestigious awards programme is conducted each year at a national level to recognize brands, teams and organizations across the country for showcasing excellence in the fields of marketing, advertising and communications. This was the very first year that SFML participated in the awards programmes and the company's significant achievement at the event serves as a testament to its impactful and well-rounded marketing and branding efforts.
Conducted by SLIM (the Sri Lanka Institute of Marketing), the SLIM Brand Excellence Awards is a celebration of exemplary branding and marketing across multiple local industries. Through this event, SLIM endeavours to encourage best practices in marketing, whilst enhancing the image of the field in the country as well as that of SLIM within the region. Now in its 16thedition, the SLIM Brand Excellence Awards programme acts as an industry platform for recognition and each year, entries are judged by an elite panel of experts who evaluate and reward truly outstanding brands that are making waves in their respective industries.
Commenting on SFML's achievement at this year's SLIM Brand Excellence Awards, Kalinga Wijesekera - Head of Marketing & Communications, SFML, said: "We are naturally delighted to recognized and to be honoured with this prestigious award at the SLIM Brand Excellence award. Having competed for the very first time and among very strong and established brands and thus winning a silver award becomes even more credible. At SFML, we operate under a robust marketing communications strategy that is geared to deliver strong messages to our clients about our products, their benefits and our overall commitment to delivering a seamless and sustainable operation. At Serendib Flour Mills we truly believe in building brands. Last couple of years we have invested in building the 7 Star brand as it's the only SLS certified wheat flour in the local Market. As such this award is a testament to the efforts that we have put in making 7 Star a winning brand.It is truly a delight to be recognized and rewarded for our consistent efforts as a top local brand and responsible B2B player, and we look forward to participating in this important programme in the coming years."
Serendib Flour Mills is one of the leading flour mills in Sri Lanka and is a joint venture between Al Ghurair Foods (AGF) and Emirates Trading Agency (ETA). The company's '7 Star' brand of flour has been nourishing the nation for 9 years and embodies purity, innovation, quality, freshness, expertise, service and trust. Serendib Flour Mills is committed to becoming the number one producer of wheat flour in Sri Lanka and the preferred flour supplier in international markets. Serendib Flour Mills launched operations with a state-of-the-art single-line capacity wheat flour mill in the Port of Colombo on 26 May 2008. Serendib Flour Mills has developed and implemented an integrated management system (IMS) based on ISO 9001:2008, ISO 14001:2004, BS OHSAS 18001:2007 and ISO 22000:2005 requirements. The system complies with applicable laws and regulations, international standards and codes, and best manufacturing practices in the areas of quality, environment, occupational health and safety and food safety.