---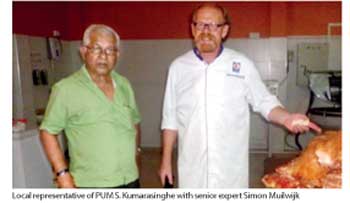 Sri Lanka needs to work hard to increase the value of our exports in order to meet the demands of the export market and also to reach the target of doubling the export income by 2020.

S. Kumarasinghe who is the representative for PUM Netherlands in Sri Lanka said that in line with the government efforts to introduce new value added projects to cater to the global market, PUM Netherlands senior experts have been providing expertise in meat processing to a livestock farm in Sri Lanka.

PUM Senior Expert Simon Muilwijk was here recently to advice 'ChutiDuwa Livestock (Pvt) Ltd', a local animal husbandry farm to provide new technology to the meat processing unit of the farm. The expert was impressed with the management of the farm in an environment- friendly manner.