---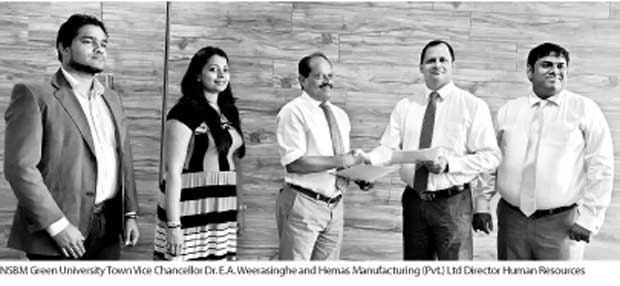 NSBM Green University Town took another step to enhance its industry partnerships by joining hands with Hemas Manufacturing (Pvt.) Ltd recently.

NSBM Green University Town Vice Chancellor Dr. E.A. Weerasinghe and Hemas Manufacturing (Pvt.) Ltd Director Human Resources Niranjan Perera signed and exchanged the memorandums of understanding (MoUs) for NSBM Industry Partnership Programme at NSBM Green University Town premises.

This industry partnership enables NSBM to work closely with Hemas Manufacturing (Pvt.) Ltd and on industry placements and joint projects for the undergraduates of NSBM.

Perera, along with the other Hemas representatives, discussed about joint initiatives by Hemas and NSBM at this occasion. The parties have discussed about live projects for final year students of NSBM based on real-life issues and personal development sessions for NSBM students.
The objective of the these are to support future career development of NSBM undergraduates in seeking job opportunities, connecting with industry professionals and advancing their career. The NSBM Industry Partnership Programme is designed to optimize synergies among the industry partners and NSBM in relation to entry level talent acquisition (internship/training), employer brand building, knowledge sharing, corporate brand building, special projects, incubation/entrepreneurship development and talent acquisition of fresh graduates. NSBM Green University Town is a fully-fledged university town built on a 26 acres premise in Homagama. It has over 9,000 on-campus students at the moment, which will record the highest student population among the state and private universities by the end of year 2018. The NSBM offers UGC-approved and foreign undergraduate and postgraduate programmes in three streams namely business management, computing and engineering.

Hemas Manufacturing (Pvt.) Ltd strives to enrich lifestyle via innovative, trusted and exceptional products that offer greater satisfaction in everyday use. It is a leader in the personal care sector, Hemas brands encompass a range of products for babies and adults in hair care, skin care, toiletries, fragrances and oral care. The company is a subsidiary of Hemas Holdings PLC, which is a listed conglomerate in the Colombo Stock Exchange with a focus on fast moving consumer goods, healthcare, transportation, and leisure.