---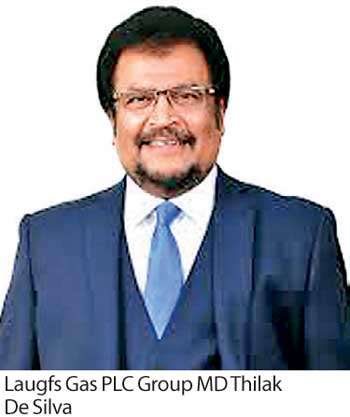 Laugfs Gas PLC, the second largest distributor of liquid petroleum gas (LPG) or cooking gas in Sri Lanka yesterday cried foul over the "baseless" price reduction of 12.5 kg LPG cylinder, which came into effect from last Saturday, contrary to the trend of increasing LPG prices in the world market.

Speaking to Mirror Business, Laugfs Gas PLC Group Managing Director Thilak De Silva lamented the Consumer Affairs Authority's (CAA) decision to cut the price of standard LPG cylinder arbitrarily by Rs.138 to Rs.1, 538.

De Silva noted that neither Laugfs Gas nor the State-run Litro Gas was consulted beforehand and the reduction is not based on any criteria.

"We didn't know anything until we got the letter and on the same day, it was announced on media," he said.

De Silva charged that a certain official at the CAA has provided false information to reduce LPG prices.

He pointed out that during last four months (March – June) LPG prices in the world market increased by nearly 22 percent from US$ 459.50 per MT to US$560.
"Very clearly, the prices are on an increasing trend. There's no reason to for it to reduce," he stressed.

According to De Silva, with the latest price reduction, Laugfs Gas PLC stands to lose an additional Rs.80 million a month.
He noted that earlier the company made a loss of almost Rs.1.4 billion as the government artificially maintained LPG prices in local market despite increases in the world market.

He said that Laugfs Gas is hopeful the President and Prime Minister will intervene and correct the prices as earlier the Prime Minister and Development Strategies and International Trade Minister, Malik Smarawickrama intervened to increase LPG prices by Rs.245.

De Silva recalled that at the recent AGM of the company, officials were challenged by shareholders on the issue.

"We had the AGM the day before yesterday and we couldn't face our shareholders. Our shareholders wanted us to protest to the government on this price reduction."
He noted that Laugfs Gas might be forced to take legal action.

"We are on a formula, which was given by the Supreme Court. You can't just play around with the formula given by the Supreme Court," he stressed. (NF)