---
By Chandeepa Wettasinghe
Lanka IOC PLC, Sri Lanka's only privately-owned petroleum distributor, is planning to set up over a dozen electric vehicle charging stations (EVCSs) at its existing petroleum filling stations this year, in order to reliably facilitate journeys to long-distant destinations such as Kandy. "We're planning to scale up, and this year we're planning more than a dozen EV chargers in our filling stations," Lanka IOC Senior Vice President Sidharth Agrawal said at a public consultation on EVCSs organized by the Public Utilities Commission of Sri Lanka.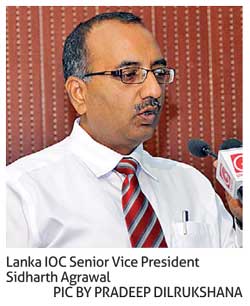 He said that some of the chargers would be set up in the Colombo-Kandy road.

"Between Colombo to Kandy, we're trying to provide a green corridor, so that anyone can be sure, when moving on this corridor, that every 30km, an electric charger is there," he said.

Lanka IOC has experimented with one EVCS in Sri Lanka so far, Agrawal said.

John Keells Holdings PLC Property Sector Engineering Head Lumbini Pathirage noted that EVCSs should be set up in strategic locations across the country, and also in expressways, so that destinations such as Kataragama would also become practical travel destinations on electric vehicles.
Although there are dozens of private and state-owned EVCSs already in the country, Electrical Vehicle Club, Sri Lanka, Co-Founder Maheesanka Abewickrama said that there is no reliability over whether such EVCSs would be operational when cars need a charge, since many EVCSs owners close shop during the day without notice, stranding electric vehicle owners on the roadside.
He noted that there are no national standards for plugs, or for the fees charged by EVCSs, some of which do not display prices publicly and charge exorbitantly.

Most EVCSs are also not covered by insurance, which put electric vehicle owners off from using such facilities, Abewickrama added.

Agrawal said that Lanka IOC is attempting to create a standardized, disciplined EVCS network in Sri Lanka, similar to the one set up in India.

However, he said that some of the local filling station owners are not interested, due to the low return from EVCSs stemming from high electricity costs.

Setting up a rapid DC charging unit is also expensive, costing around Rs 6 million a unit, Abewickrama said.

Agrawal however noted that one charger per filling station would not be enough either given the boom in electric vehicles in Sri Lanka, and with this comes the challenge of providing additional electricity supply to the filling stations.

"Filling stations, I'm told, can get only one commercial electricity connection. A second connection should be provided based on the electric vehicle charging facilities being provided, because one charger requires something around 50 kilowatts. So if you're planning to put 2-4 chargers, that's 200 kilowatts. That's a huge load," he said.

However, according to Agrawal, Lanka IOC has planned around this hurdle. "We want to reduce our carbon footprint, so we're providing the solar canopy. So the majority of the power being used by the chargers will come from the solar canopies," he said.

Pathirage noted that the government must maintain policy stability with respect to import taxation on electric vehicles, and that excessive taxation will result in changes to the level of imports, which in turn would deter EVCS investors.

Currently there is around 4,600 electric vehicles in Sri Lanka, most of which are confined to driving in cities.

A survey by the Electrical Vehicle Club has found that approximately 74 percent of electric vehicle owners use their electric vehicles as their primary vehicles.

Most of the electric vehicles were imported in 2015, during a year when taxes on electric vehicles were slashed under a populist election budget.