---
Kuwaiti Ambassador in Sri Lanka Khalaf Bu Dhhair said his country is willing to help Sri Lanka's development plans with required investments.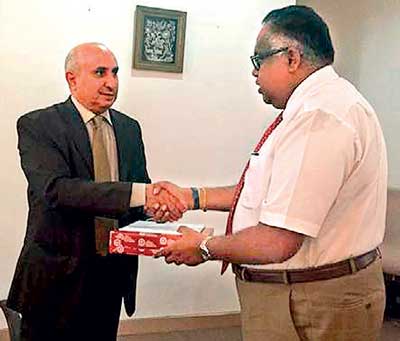 The envoy conveyed this when he made a courtesy call to the Ceylon Chamber of Commerce (CCC) recently and held talks with Chairman Samantha Ranatunga.
"Kuwait is keen to engage in oil exploration and distribution activities in Sri Lanka," Dhhair revealed. He also said Kuwait is willing to engage in the fields of construction and tourism in the country.
The ambassador observed that people to people movement and more business-to-business meetings between the Kuwaiti and Sri Lankan businesses will help enhance commercial ties between the two nations.
In response, Ranatunga said, "The Ceylon Chamber is ever willing to help Kuwait and its business firms to conduct business in Sri Lanka, in whatever way we can."
He also cited the upcoming trade agreements as ideal platforms for investors to start up projects in Sri Lanka to capitalize on the trade agreements.
CCC Deputy General Secretary Alikie Perera, Senior Assistant Secretary General Lilakshini De Mel and Chief Economist Anushka Wijesinha were present during the meeting.
Trade between Sri Lanka and Kuwait during the year 2015 has totalled to a sum of US $ 68 million, with Sri Lanka's exports accounting for US $ 39 of it, with coffee, tea and spices earning the highest share out of the total exports.