---
Sri Lankan business leader K.R. Ravindran will assume the Chairmanship of the Board of Trustees of Chicago-based Rotary Foundation today
(July 1st).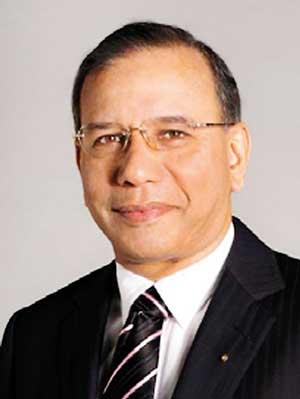 A product of S. Thomas' College, Mt. Lavinia, Ravindran is the co-founder and CEO of Printcare PLC. In 2015, Ravindran became the first Sri Lankan and 11th Asian to have served as the global President of Rotary International, one of the worlds best known international non-profit organisations. Previously, Ravindran served it as Director and Treasurer.

In 2017, he was conferred with the Sri Lanka Sikhamani title by the Government of Sri Lanka. The Rotary Foundation is ranked by Charity Navigator, a well recognised evaluator of charities, as the best of Charities in the world in their 2019 rankings.
The Foundation received the highest rating—four stars—from the Charity Navigator for the 11th consecutive year. With net assets and expectancies in excess of US$ 2 billion, the foundation earned the maximum of 100 points for demonstrating both strong financial health and commitment to accountability
and transparency.

Sri Lanka has been the recipient of Rotary cash grants in excess of US$ 15 million over the past few years. Rotary has funded vital equipment for Sri Lankan hospitals, set up a human heart valve bank, built tsunami destroyed schools and is working with the government to eradicate cervical cancer. The Rotary Foundation has donated generously
to these projects.

Currently in the COVID-19 era Rotary is working with the MRI in equipping the institute with modern equipment. This would increase MRl's ability to do substantially more tests per day, give very accurate results and also protect the lab staff from any source of contamination being completely automated. The total value of equipment, PPEs and other material to MRI and other hospitals exceeded Rs.120 million.

Joining Rotary in this project and adding much needed strength were Dilmah Charitable Foundation and the Carson's group. Realising that in a post COVID world a radical behavioral change will become necessary to keep Sri Lankans safe as they go about day-to- day living. Rotary has launched a nation-wide project. It's called 'Stop
the Spread'.

Working with experts and professionals, Rotary has set up a protocol that would enable companies that are compliant with such guidelines to be certified as a COVID
controlled environment.

Thus, across our country industries, business premises, educational institutions, supermarkets, and other retailers can make their establishments safe, both for themselves and to their customers.