---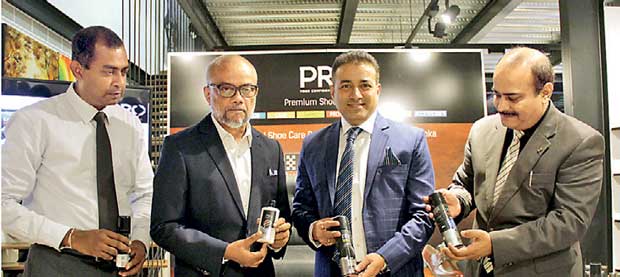 From left: Hameedia General Manager Chinthaka, Hameedia Managing Director Fouzul Hameed, M.V. Shoe Care Head of Sales Lokesh Chopra and M.V. Shoe Care Managing Director and Founder Ketan Vyas display the products
Pic by Pradeep Dilrukshana
By Zahara Zuhair
Strengthening its product portfolio, Hameedia, the local menswear specialist, recently introduced a new range of shoe care products to the local market with the launch of India's PRO shoe care.
The PRO shoe care range of products offers eight focused categories for shoe and leather care called: clean, care, colour, shine, renew, fresh, protect and accessories.
The features of the products as noted were: clean - cleans and conditions the shoe, colour - restores the colour of the shoe, shine - gives instant perfect shine, care - gives special care for the shoe, renew - gives a new look for the leather, protect - gives extra protection to the shoes and fresh - freshens up the shoes and the feet.
It was noted that the products developed by leading manufacturer and exporter M.V. Shoe Care, offers customers easy-to-use, high-quality cleaning and shine solutions. In India, the PRO shoe care range is available in over 1,200 outlets including leading footwear retailers and fashion stores.
Hameedia Managing Director Fouzul Hameed said that the PRO range of shoe care products is extremely easy to use and will help to keep the leather footwear in excellent condition.
"If your shoes are in a poor condition or look dull due to wear and tear, it can literally diminish the effect and overall finish of your entire outfit. If you invest in important staples such as leather shoes or sandals, it is important that you maintain them, so that they look their very best at all times," he said, talking about the importance of using a good shoe care product.
"Partnering PRO is like a dream come true for us. We are doing men's clothing for last 70 years. We were hunting for a partner for this range for last four to five years. The PRO shoe care range has 23 unique products and I believe these are the ideal products to use to energise your personality in every step you take," he said.
"This is a total solution; this has everything for a shoe. A lot of people buy shoes but they don't maintain. We want to help the customer to maintain the shoes; we will teach the customer how to maintain," he added.
Meantime, talking to Mirror Business, Hameed said that they are planning to open a salon within two months specialised for men, which is yet to be named and will be launching two more perfume products called Real Man and Envoy.
M.V. Shoe Care Managing Director and Founder Ketan Vyas said that the new range of products and services will change the way consumers take care of their shoes and leather goods.
Noting that they are impressed by Hameedia's professionalism, he said that together with them they will make a very positive impact on the provision of high-quality shoe and leather care products throughout
Sri Lanka.
M.V. Shoe Care Head of Sales Lokesh Chopra said that Sri Lanka is an important market for them as it is experiencing fast growth in the retail sector.
Further, it was noted that customers can consult Hameedia's grooming specialists to find out more about which shoe care products should be used on different types of footwear as it will be available in all Hameedia showrooms.
Also, at the launch held at The Envoy Mansion, the media personnel were provided with the opportunity to try out the shoe care products at the demonstration sessions hosted by the officials.
Hameedia, established in 1949, already has got a collection of brands such as Le Bond, Envoy, Signature, Raymond, Lee and Adidas.