---
By Yohan Perera
A Cabinet paper to establish a Development Finance Corporation (DFC) is being prepared by the Finance and Mass Media Ministry, Prime Minister Ranil Wickremesinghe said yesterday.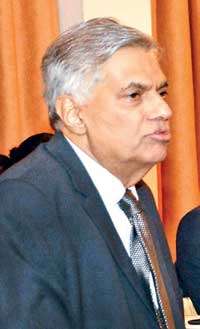 The Prime Minister said this at the Sri Lanka Institute of Directors (SLID) Annual General Meeting held in Colombo last evening.

"We want to start up a Development Finance Corporation, and the Finance Ministry is preparing the necessary Cabinet papers. The stakeholders of this will be the Central Bank, two State banks and some of other Sri Lankan banks", the Prime Minister said.

He said the government is to release a sum of Rs.10 billion for the stakeholders even before the DFC
is formed.

"Let's see how many of you would utilize this development fund," he told the SLID members who were in attendance.

The Prime Minister also promised that the government would shortly introduce radical reforms in regulations in order to ensure ease of business.
"Minister of Development Strategies and International Trade Malik Samarawickrama and State Minister Harsha de Silva are preparing these new ease of doing business solutions. Some of the existing regulations will have to be removed, but it will take some time," he said.