---
Celebrating 36 years of success in the industry on August 18, the air conditioning power house Frostaire continues to provide Sri Lanka with affordable, all air conditioning solutions and many other facilities to its Sri Lankan clientele.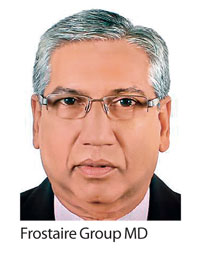 Frostaire is a specialized company with years of experience behind; it provides all air conditioning solutions and other cooling facilities with its well-equipped modern showroom in the heart of Colombo, service centre in Welisara, state-of-the-art auto air condition division with an auto A/C service centre and every essential aspect of after-sales service from installation to repairs is undertaken, using high-tech equipment manned by a skilled team.
Frostaire being one of the major suppliers of air conditioning systems in all range, such as split, wall/ceiling/cassette and floorstanding types for domestic and light commercial/VRF/water and air cool packages/chillers for larger projects, its air conditioners are fitted with energy-saving Japanese rotary and scroll compressors, which are among the best in the world.
The company also supplies the latest in green air conditioning systems with its range of inverter air conditioners.
Frostaire Panels, a subsidiary of Frostaire, is a joint venture with a company in the UK, which is a leading panel manufacturer. The company manufactures insulated panels used for cool rooms, refrigerated truck bodies, portacabins, etc., for export market.
Frostaire has also diversified its products and service range and has been appointed as an authorized dealer for Thermo King for the truck and trailer unit service in Sri Lanka. Thermo King refrigeration units are the only safe, sure and cost-efficient solution for your cooling refrigeration and deep freezing needs for vegetables, fish meat and other perishables on the move. Further, Thermo King has the most accurate thermostat that controls the temperature required for respective food items retaining its nutritional values.
Having amply demonstrated its dedication to its valued customers, Frostaire is committed to being the ultimate cooling service provider in the long term, providing total air conditioning solutions to the corporate, financial, government and domestic sectors.