---
Ginger and coriander are now introduced to the market under the brand name of Fadna in the form of tea bags. Named Fadna GinCo (ginger, coriander) tea, it is ideal for tea time, refreshingly warms the body and revives from tiredness.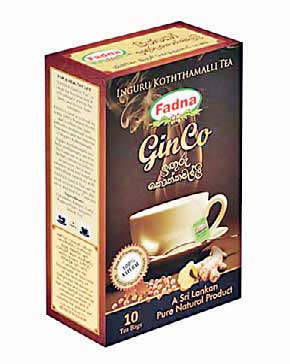 Fadna GinCo is made by using 100 percent natural herbs and it offers the same authentic traditional aroma, goodness and the benefits of inguru-koththamalli, which have been traditionally used by Sri Lankans as a proven herbal remedy to relieve weariness, fever and common cold and helpful in controlling catarrh as well.
Fadna GinCo tea can be used several times per day, cover and boil for five minutes. Fadna GinCo is a product, which is approved by the Ayurveda Department and can be purchased from all the supermarkets and pharmacies islandwide and it is also available in Sinhala Ayurveda shops.